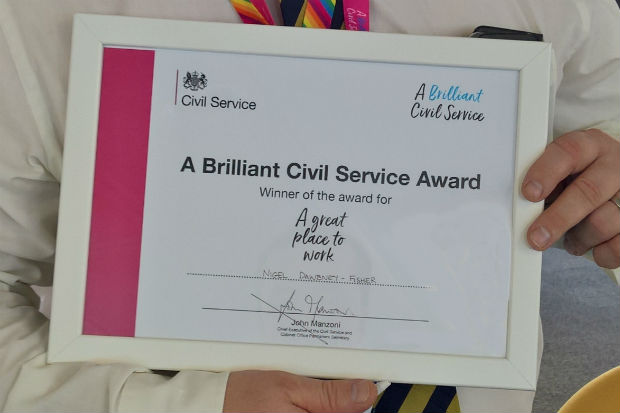 Across the country, civil servants are improving people's lives. But in the midst of our hectic schedules, it takes a conscious effort to stand back and recognise what we're doing.
I think we've got a lot better at celebrating success over the last few years. Most, if not all, departments, agencies and other organisations have annual awards recognising exceptional performance by individuals and teams within that organisation.
The Civil Service Awards, along with the separate Diversity & Inclusion Awards, extend that celebration across the whole of government. And the Operational Delivery Profession Celebration Event, which I had the good fortune to be at recently, recognises the contribution of everyone nominated for the Dame Lesley Strathie Operational Excellence Award and the Customer Service Award.
So what's different about the monthly 'A Brilliant Civil Service' (ABCS) awards? Do we need yet more awards?
I'd say yes to that. The ABCS awards were introduced by John Manzoni and the late Lord Heywood two years ago in January 2017. They have a particular purpose: to celebrate outstanding examples of the 'A Brilliant Civil Service' vision in action across the UK.
The vision is built around four pillars that describe how we want the Civil Service to be: Effective Leaders, Skilled People, A Great Place to Work, delivering Improved Outcomes for the public. Every month, the award focuses on achievements against one of the four pillars. So, they are about more than what we do. These awards recognise exceptional contributions to how we work, bringing to life the vision we aspire to.
Each month, a Permanent Secretary selects a winner. I was lucky enough to judge the January 2019 award, for Improved Outcomes. It was a privilege to read about the brilliant work going on across government.
In 2018 alone, we had more than 900 entries from departments, devolved administrations, agencies and public bodies. The high calibre of entries reflects the truly exceptional standard of what you do as civil servants each day.
The 2018 award winners included:
Improved Outcomes – School Performance Data Unit and Digital Delivery Teams Data Group, Department for Education:

the team successfully updated their educational databases, replacing outdated solutions with modern services designed with user need at their core

Skilled People – Szilvia Varadi, Department for Transport:

Szilvia enabled the HS2 programme to meet key milestones and significantly improved the quality of advice and decisions, while always remaining focused on ensuring value for money

Effective Leaders – Jashoda Pindoria, Department for Work & Pensions:

Jashoda has a track record as an inspirational leader for Jobcentres across East London and actively develops her own leadership credentials and the capability of her senior leadership team

A Great Place to Work – Engagement and Performance Team, Ministry of Justice:

 the team ran an ambitious programme around staff engagement and social mobility, creating a plan that delivered high-impact engagement that makes a difference
These, the other highly commended and winning entries, and the countless other commendable nominations from last year, reflect the unprecedented range of ability, support and talent within the Civil Service.
Thank you to everyone who has submitted an entry over the last two years. Please continue to use these awards to highlight and celebrate the brilliant work you and your colleagues are doing, and tell us in the comments section below what A Brilliant Civil Service means to you.
Submit a nomination here for the current month (the April award is for A Great Place to Work). For updates on the 2019 award schedule, please refer to your departmental intranet or contact your internal communications team.