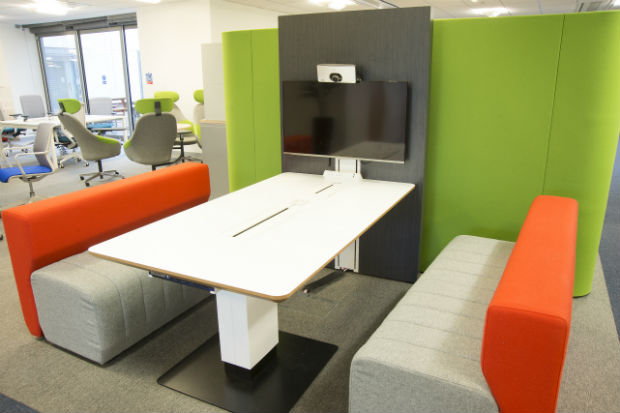 Last chance to apply for the 2019 Smarter Working Awards! Nominations close on Wednesday 30 January (see below for details)
For the last 6 years we have been on a journey to re-shape how the Civil Service will work in the future. It is all about encouraging people to adopt the most modern, evidence-based form of flexible working. We call this 'Smarter Working'.
Although not to everyone, for the wider Civil Service our story begins in 2012, a landmark year, with the Civil Service Reform initiative calling for the "creation of modern workplaces, enabling flexible working" and the London Olympics. The Olympics? Well there were serious concerns about transport infrastructure, already stretched, coping with a massive influx of visitors. Could civil servants be encouraged to work differently? Well many could and they loved it!
The time was right to talk seriously about a new approach to work and we got the attention of Civil Service leaders and government ministers. The term 'TW3' started to crop up with regularity in online forums and discussions about working practices and Civil Service reform. TW3, in this context, was "The Way We Work", our initial campaign to promote smarter working throughout the Civil Service.
Making flexibility the norm
TW3 set out a new vision of work for the Civil Service around a small, but significant, set of key principles. It was about breaking away from old and accepted ways of doing things appropriate for work in the 19th and 20th centuries but not the 21st.. It was about making flexibility the norm, not the exception.
One key principle was pretty simple: work is really about what you do and not where you go. Simple, but with a fundamental message: where and when you do the work does not matter; producing outcomes to the right quality and on time does. Instead of encouraging people to be seen at the workplace at the same time, hey, why not encourage people to work where and when they are most productive? Revolutionary!
This unleashes powerful forces: at its heart is establishing a relationship of trust and empowerment between manager and employee. It's based on the idea that when people are given a clear goal to achieve, in a supportive environment, they will be motivated to do so without being monitored, supervised or forced. They will choose to get things done in the way that suits them best and is most productive.
Empowering staff
Steve Jobs once said, "You cannot mandate productivity, you must provide the tools to let people become their best". And that's something that increasingly influences our thinking on about the government workplaces we want: environments with Smarter Working at their foundation, that empower staff to find new and creative ways of productively delivering public services.
Many parts of government have responded brilliantly to this agenda and have transformed how they work in an exciting way. The annual Smarter Working Awards have provided the platform to recognise, celebrate and share their success over the years. And don't just take our word for it – the competition is fierce and nominations are judged by some of the country's foremost experts in the field.
As a global leader in this workplace revolution and working with the corporate sector, not-for-profit organisations and subject matter experts, HM Government has been at the forefront of turning Smarter Working from an art into a science, pulling together best practice and evidence into a national standard, PAS3000. Launched at the 2016 Smarter Working Awards its a Code of Practice for all organisations, public and private, large and small. And it's central to our future plans. "Smarter Working", the government's new successor programme to the TW3 campaign, will ensure that all parts of the Civil Service have integrated the principles of PAS3000 by the end of this Parliament. It's government policy that is set to make Smarter Working business as usual.
Game changer
It's not one size fits all of course; but the potential benefits of Smarter Working for both individuals and organisations are immense: a better work/life balance, with positive benefits for recruitment and retention; a reduced carbon footprint; enhanced accommodation of diversity; better mental and physical health; improved productivity; and more effective use of property.
Smarter Working is a game changer for how we work and an important element of the Civil Service employment offer, supporting a more diverse workforce and making a crucial contribution to realising the vision of 'A Brilliant Civil Service'.
The Smarter Working Awards 2019

A workspace at the Defence Science and Technology Laboratory (Dstl), past winner of a Smarter Working Award in the Workspace category.

The 2019 Smarter Working Awards ceremony will take place at the iconic BT Tower in London on 26 February.

Nominations close on Wednesday 30 January and should correspond to individual or team outcomes in Smarter Working between the period 1 April 2017 and 31 December 2018.

Please read the nomination guidance before submitting your nomination.

The shortlist for the awards will be announced on 12 February.

You can nominate colleagues and teams from any part of the Civil Service or public sector, who have made an exceptional contribution to Smarter Working in the following categories:

Best example of leadership in Smarter Working (individual, team or organisation)

Best optimisation of property portfolio for Smarter Working (team or organisation)

Best utilisation of technology to enable mobility and collaboration (individual, team or organisation)

Best culture of Smarter Working (organisation)

Best example of working beyond own programme/organisation/department to embed a Smarter Working culture throughout government