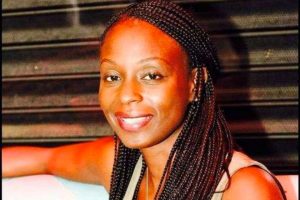 Black History Month gives us a great opportunity to celebrate not just what we've achieved but the heights we can reach with determination and a positive attitude.
I was born in Nigeria to a Jamaican mum, a nurse, and a Nigerian dad, a chartered surveyor. I moved to the UK just before my 13th birthday. Before that, I went back and forth between Nigeria and the UK.
Although I've now spent most of my life in the UK, I feel a sense of being split into three separate identities. My Nigerian roots are still very strong, mixed in with great Jamaican influences from my maternal side. I also have a huge sense of pride in being British. The mixture of these three cultures has taught me how to be adaptable and resilient in ever-changing environments and cultures.
Life has also taught me that sometimes you must make the move before you think you're ready. I like to push myself to new heights and the past few years have definitely been about that.
The first major challenge that brought me outside my comfort zone was applying for and getting a job in Ministerial Private Office as Assistant Private Secretary (APS) to Dominic Raab and Sam Gyimah, both then Justice ministers. I felt completely out of my depth. I had no idea what I was doing, and for the first time in my working career I was surrounded by people who didn't look or talk like me.
I've now learnt that the magic happens when you get out of your comfort zone. When you refuse to listen to the negative voices, you gain personal growth. As a result, I've made new friends, learnt new skills and gained a wealth of experience.
Since then, I've completed three half-marathons (one running, the other two walking), climbed Mount Snowdon and been on many wonderful adventures.
Be willing to experiment and try new things. It's always better to do something badly and develop, than not do anything and stay stagnant. The private office job, the half-marathons and climbing Mount Snowdon were all new to me, but I succeeded because I told myself that failure was not an option. I may not have been the best APS, or the fastest to run the marathon or climb the mountain, but I tried my best and finished my own race well.
Marcus Garvey once said: "If you have no confidence in self, you are twice defeated in the race of life, but with confidence, you have won even before you have started."
So, let Black History Month inspire you to move out of your comfort zone, even before you think you are ready!