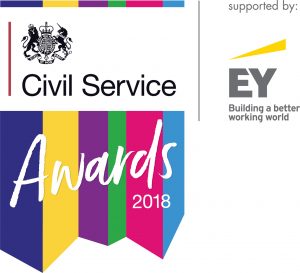 This year, the Communication category in the annual Civil Service Awards attracted 36 nominations. For the first time, entries for this category were invited in the form of a two-minute video.
Following the OASIS model for effective communications, the short films needed to set out SMART objectives, understanding of audience, the strategy employed, and a list of communications activities implemented. Finally, to score each entry, the judges looked for evidence that the campaign had real impact.
The top nine entries were invited to an interview to present their case in more detail. The judges were:
Alex Aiken – Executive Director, UK Government Communications
Cheryl King-McDowall – Deputy Director, Professional Standards, Government Communications Service
Cormac Smith – Deputy Director, Cabinet Office Communications
What the judges thought
Speaking about the overall standard of nominations, the judges said:
We have seen this year that professional standards continue to improve. The variety of work represented in the submissions was impressive. It ranged from the Scottish Government's work to communicate new General Data Protection Regulations (GDPR), to the Great Campaign promoting the UK in Hong Kong, and the Crown Prosecution Service's campaign to tackle Hate Crime. The work focused on improving lives, generating prosperity and making the UK safer and fairer, while strengthening our position and influence in the world.

This is the first time we have asked for submissions in the form of a two-minute film. We did this because we wanted departments and their agencies to use a modern format to present their work. We were particularly encouraged by the high production values in virtually every entry.

A number of themes also emerged across this year's entries. Notable were the use of data by Public Health England, geographical targeting by the Ministry of Justice, direct communications employed to great effect by the Department of Health, and effective use of pre- and post-polling by the Scottish Government in rolling out superfast broadband.

To make the long list, however, tangible evidence of real value added was essential. The GCS evaluation framework had to be rigorously applied, and we needed demonstration of outcome and organisational impact. We had to take some tough decisions. The following, in no particular order, are our nine commended entries. 
Go home healthy ‒ Health and Safety Executive
The UK economy is significantly better off as a result of this campaign, which saved thousands of working days by creating workplace conversations about managing stress.
Share the joy ‒ Department for Business, Energy & Industrial Strategy
This campaign succeeded in changing attitudes towards shared parental leave, using digital advertising and popular magazines.
If you can, I can (Imajinn) ‒ GCS International
A successful campaign run by the FCO and GCSI to encourage women entrepreneurs in Tunisia. It had a significant impact on women taking practical steps to start their own business.
Prison officer recruitment ‒ Ministry of Justice
This campaign saw the MoJ fundamentally change its approach to recruitment. As a result, it exceeded targets, ahead of schedule, while attracting applicants from beyond traditional target groups.
Don't let tax peck away at you ‒ HM Revenue & Customs
This campaign made smart use of behavioural insights to refresh the annual tax campaign, raising significant additional revenue for the exchequer in the process.
Organ donation opt out ‒ Department of Health & Social Care
A successful and far-reaching campaign that used creative approaches to raise public awareness about organ donation and increase potential Black, Asian and Minority Ethnic donors and those from religious groups.
Tackling antibiotic abuse ‒ Public Health England
Over-prescription of antibiotics is an increasing threat to public health through the emergence of antibiotic resistance. This campaign had a significant impact on reducing prescriptions issued, in particular among priority target groups.
Modern slavery ‒ National Crime Agency
A powerful national photographic exhibition, supported by stakeholder engagement and a PR campaign, increased the public's ability tounderstand modern slavery, recognise the signs and report it.
Online inward investment ‒ Department for International Trade
This campaign displayed innovative use of social media to target specific markets, exceeding targets for lead creation and resulting in investment and jobs for the UK. 
The judges added:
We want to thank everyone who put huge effort into some great work over the past year, and those who compiled so many truly impressive submissions. We will blog again on the top five entries when they are published.

The winner will be announced at the prestigious awards ceremony in November. We also intend to put the videos online – these are great case studies that should make us all proud of the work we do.

The final word goes to the newest member of our team, Cheryl, who joined government in May:
'As a newcomer to Whitehall, I have been impressed by the robust approach to research and audience insight. These entries demonstrate cutting-edge innovation in communication. The fact that this work is changing and improving lives makes me proud to be part of the world-class Government Communication Service.'"