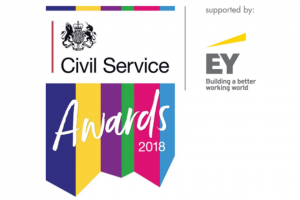 The Civil Service Awards 2018 are still open for nominations. Do you know someone in your organisation who goes above and beyond to deliver better service for the public? Can you name a team or civil servant who deserves recognition for their work?
Nominating someone is a great way to support a colleague or team you work with; or you can recognise the achievements of your own team. There are 15 award categories, ranging from digital to health and wellbeing.
Visit www.civilserviceawards.com to start your nomination. Nominations close at midnight on Wednesday, 25 July.
Kulvinder Bassi's work has led to him twice being a winner of a Civil Service Award. He tells us about his experience.
"Being nudged forward by Mike Franklyn, Deputy Chair of the Department for Transport (DfT) BAME staff network, PSG, helped me to overcome the initial shock of winning a Civil Service Award.  Nothing quite prepares you for it, even if you've been fortunate enough to have won before.

"The first time I won was in 2012, for a community rail outreach project that supported the BAME community, amongst others, to build their confidence in using their local railway networks. Being on stage with Cabinet Secretary Jeremy Heywood, who presented the award, was a little daunting  – what are you supposed to chat about while waiting for the photographers to get ready?

"Anyway, I spoke to him about community rail, the aim of which is to bring together local groups and partners along railway routes to work with industry and deliver a wide range of engagement and promotional activities. I was able to discuss with him how we were working with community rail partnerships to help transform both local railways and peoples' lives.

"I received the 2017 award for championing diversity and inclusion through my work with staff networks. This was a testament to the outstanding support and collaboration of colleagues throughout my career at the DfT.

Kulvinder Bassi, winner of the Diversity and Inclusion Award 2017, flanked by Jeremy Heywood (right) and Dr Nasser Siabi (CEO, Microlink)

"I have never felt that inclusion is difficult. Making people feel valued and listened to, giving them some autonomy to make decisions and giving their job some purpose goes a long way. My network introduced coffee mornings with our Race Champion Tricia Hayes, giving members the opportunity to have an informal chat. They have proved to be a great way for Tricia to keep abreast of the latest issues of concern, and they've helped to shape corporate initiatives, such as our new performance management system.

"Networks have also played their part in supporting DfT to be a place where staff feel recognised and where good contributions are celebrated. Recent successes include an application and interview support service, to help our members with promotion in the Civil Service; and building a relationship with KPMG to build a peer mentoring programme between our two organisations.

"We have benefited from the strong leadership provided by every Permanent Secretary since the late Sir David Rowlands. So, it was great to have not only our current Permanent Secretary, Bernadette Kelly, but also Sir Robert Devereux (our first Race Champion), Sir Philip Rutnam and Lucy Chadwick (DfT Disability Champion) in the room to share this special moment. Their personal commitment to this agenda, along with DfT's Diversity and Inclusion team, has helped us secure this fantastic achievement. Most importantly, the network's success is based on the work of our many volunteers - our unsung heroes.

"I have already said that this award reflects the outstanding support I have received from colleagues. I will end by encouraging others to take the time to nominate colleagues and to show them how much you appreciate what they do – what better way to say thank you?"

Kulvinder Bassi, Department for Transport
Nominate a colleague for the Civil Service Awards: www.civilserviceawards.com.