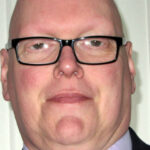 This 'unconscious bias' thing. What is it, exactly?
Well, I suppose an easy explanation is that, in prehistory, if a sabre-toothed tiger ate your friend then there was a better than even chance it would do the same to you. So you had to be wary of the tiger. It was a personal safety thing.
Down the generations, this warning eventually gets encoded into our DNA, so it becomes a type of defence mechanism. There are no sabre-toothed tigers now, but we still have this mechanism in our subconscious. This is what unconscious bias is.
We all constantly make judgements about people and situations based solely on what we have heard or read, rather than personal experience. And if someone we trust says something, then it must be true. Mustn't it?
But what if it isn't?
If you've read my previous blogs, or if you know me personally, then you'll know that I'm big on 'fairness'. Treat people as the individuals that they are, and give them the things they need in order to thrive. We're all minorities of one. Just because you happen to belong to a particular community or group it doesn't logically follow that you are the same as other community members.
React to what is in front of you, not what you think is in front of you.
It's often said that people don't always remember what you say, but they'll always remember how you make them feel. I'd urge you to remember this. It's important.
I'd illustrate this with some of my work with the DWP Disability Engagement Group. It deals with how people feel, and how much they feel a part of the team. It's all too easy to see 'people with issues' in terms of what they can't do, rather than seeing their different abilities as a positive. The wheelchair or stick is seen before the person. And if you can't see the issue, then unconscious bias kicks in again and 'if I can't see it, it's not there' rules the roost. Don't see people on your terms – see them on their terms.
Again, react to what is in front of you, not what you think is in front of you.
Make everyone you work with feel important and valued.
Dogs don't get hung up with history, and live in the now. They don't judge you. They think you're awesome.
Be the person that your dog thinks you are!