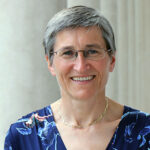 This feels rather overdue. I became Civil Service Diversity Champion for Faith and Belief in October last year. Since then, I've had fascinating conversations with people inside and outside the Civil Service about faith and belief, which have helped shape my thinking about this new role. I've received offers of help (thank you!) and have been privileged to join in celebrations, with different faith and belief groups, of Hanukkah, Christmas and the advent of Guru Nanak Dev' Ji. But this is my first blog.
And actually that's a good example of why this champion role has been created. Of all the diversity characteristics, faith and belief is the one we talk about least. Many people, including me, feel a bit uncomfortable talking about their faith or belief.
That's partly because it feels quite a private matter. But that's not the whole story. We also worry - I worry - that by talking about my faith I'll open myself up to other people's preconceptions. I worry that people may hear what I say as implying that my faith - Christianity - is better than theirs, or better than not having a faith. They may want me to justify my beliefs. Or not to justify them. Or, if I'm talking to someone from another faith group, I worry that we'll fall into that difficult and embarrassing space of tiptoeing around the differences between our faiths in order not to cause offence. In short it feels like a minefield.
Paradoxes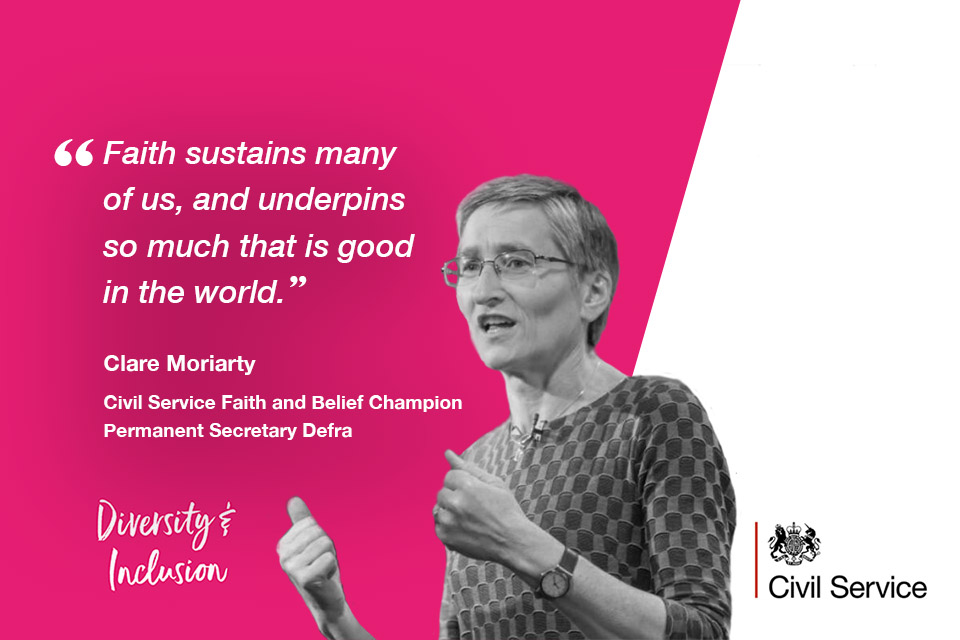 Asking someone about their faith feels equally difficult. Will it come over as intrusive,  patronising, or just ignorant? And shouldn't I know this stuff already?  
Well, no. It really is quite complicated. There are many different faiths, and there are non-faith beliefs such as humanism. Within most faiths there are multiple sub-groups, and the differences in belief within faiths can feel as large as the differences between faiths. I know a bit about Christian denominations and Jewish traditions but I couldn't begin to describe how Islam, Hinduism, Sikhism or Buddhism works.
There are also huge paradoxes within faith and belief. Faith sustains many of us, and underpins so much that is good in the world, from charitable giving, to reconciliation movements, to educational foundations. But the word associations for faith are predominantly negative. Many pejorative phrases have their roots in faith. None of us wants to be described as 'holier than thou', or called a bigot.
Faith matters
With all this going against us, why would we risk talking about faith?
Well, because it matters. My faith is part of the person that I am. It informs my values, which in turn underpins everything that I do, at home and at work. That doesn't mean that without my faith I would have no values, but it's not separable from the rest of me.
I can't truly bring my whole self to work without bringing my faith too. And, as I've said in previous blogs, I believe we all do our best work if we feel that we can be our whole selves at work.
But like everything else about bringing ourselves to work, it has to feel comfortable. So my question is, what does it take to feel comfortable talking about faith and belief at work?
Often it's helpful to start small. Few of us would launch into a discussion of our deepest feelings with a complete stranger, but it's easy to start a conversation about shared interests that can lead, over time, to something more. In my discussions with faith and belief networks, we often find ourselves talking about time, food and dress. Small things in some ways, but importantly the outward signs of religious observance.
Could that be a way into talking about faith and belief? I'd love to hear your views. And I'll be writing more shortly about how I see the role of Faith and Belief Champion developing.
The Civil Service aims to  become the UK's most inclusive employer by 2020. Our new Diversity and Inclusion Strategy sets out how we aim to achieve this.
Follow Clare on Twitter: @ClareMoriarty.