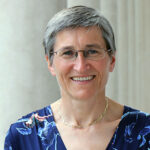 Of all the sessions I attended at Civil Service Live, one really stayed with me and I found myself coming back days later to the questions it had raised. The session, part of the Effective Leaders strand at Civil Service Live, was a conversation about leading in uncertainty between John Manzoni, Chief Executive of the Civil Service and Cabinet Office Permanent Secretary, Duncan Selbie, Chief Executive of Public Health England, and me.
And the questions I kept coming back to go to the heart of the culture that we want in the Civil Service. As a leader, what can I do to create a 'no fear' atmosphere? How do I make sure that I'm hearing people's voices, wherever they are in the organisation? These are easy things to wish for, but take a huge amount of consistency to realise in practice.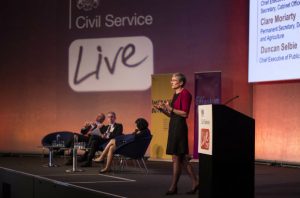 I shared with the audience a recent lightbulb moment about talking versus listening. You know that moment when someone comes in with a comment that suggests they haven't understood what you've just said? You explain, and then they make the same point again. My reflex at that point is to think, 'perhaps I didn't explain that clearly enough', and have another go. But I'm learning to dial that down, and dial up a rather different response: perhaps I didn't listen hard enough. If it was worth them saying it twice, have I understood what they wanted me to hear?  
That's important because people don't go on telling us stuff if we don't appear to be listening. They'll probably make a second attempt, maybe a third. But if I keep repeating what I'm saying, ever more clearly, most people will conclude that I don't want to hear what they've got to say, and give up. And then I'll have lost the opportunity to learn something.
Really hearing people means making the opportunity to hear them as well as cultivating the art of listening. Visibility is important, though it needs to be authentic. Some years ago, in the department where I was a director, lack of visibility by the top team was identified as a problem. In response, each DG was required to have a written 'visibility plan'. While that may have created opportunities for people to see the top team, I'm not sure it really addressed the underlying issue.
So I'm more interested in being available, accessible and approachable through whatever means work for people. A conversation at our Grade 6/7 forum in Defra created the opportunity to tailor a role for an autistic member of the team. An email sent after I'd spoken about diversity led to the Defra Experience and Age Network being set up. A tweet alerted me to an incident of bullying and harassment that we were then able to address.
The examples that come up are often individual, but the impact is much wider. We all know that people watch leaders and look for clues in their behaviour about what matters to them. The way that I listen, and how I act on what I hear, is telling people in Defra a lot about me. It helps me understand my organisation and also, over time, shapes its culture.
So nowadays, when I ask, 'am I making myself clear?', I'm still making sure that people understand what I'm saying. But I'm also checking that I'm sending a message, through everything I do, that I want to hear from people, will make the effort to listen and will act on what I hear.