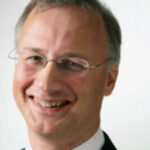 I was reading John Pullinger's blog recently, about leadership and the Civil Service, and reflecting on how much we've changed in the 33 years that I've been a civil servant.
Working in the Northern Ireland Office (NIO) then, communications between London and Belfast were by diplomatic bag or unreliable fax machines that had only recently been brought in.
While the work has always been interesting and exciting, a lot of what has made me stay for so long has been working with really great people – colleagues who are very good at their jobs, as well as being excellent company.
Flexible working
Organisational culture is quite a nebulous concept. It's difficult to pinpoint what makes a great environment, but when it works, you really know it. Being motivated to come to work and do a good job is as much about the environment you work in and who you work with, as it is about what you do.
At the NIO, we have just gone through a significant IT change project. Previously, flexible working was limited to a few, rather clunky laptops that weren't very portable. Now, almost every member of the department has their own laptop, enabling them to work securely wherever they like.
This change has caused us to evaluate our own culture within the department, and think about where we want to be. It enables more flexible working, both in and out of the office. But just because we have the technology to work from home, doesn't mean we should expect our staff to be always available and on call. The work/life balance is important to maintain, and being an inclusive and open employer is one of our top priorities.
Encouraging diversity
In the NIO, and across the Civil Service, we're striving to create a work culture that welcomes people from all backgrounds and walks of life, and recognises that diversity is something that organisations need in order to thrive.
We are committed to recruiting from all backgrounds, and to supporting flexible work patterns, which means we are able to recruit the best from the widest possible pool.  In the NIO, the flexibility made possible with our new IT has got our people talking and blogging about different patterns and ways of working. Their enthusiasm and stories are worth as much as any number of formal policies in encouraging diversity.
When I think about the changes the Civil Service has gone through over my career, I feel lucky to have worked with so many great and capable colleagues, and I look forward to welcoming new generations into what is a more inclusive culture over the next few years.