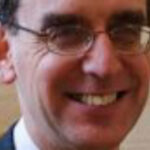 At last year's Civil Service Live event in Bristol I shared a version of the Civil Service story with a lively group of colleagues from a wide range of departments. It was an energising experience.
I talked about how the Civil Service came into being and how our values developed. I highlighted a few stories about the challenges the service has faced, especially at pivotal moments in our national history, at times of war or financial crisis, for example. We've had some great role models like Evelyn Sharp who rose from the ranks to be the first woman Permanent Secretary.  We can also learn from some cautionary tales from the First World War, like how we should think through the rules to ensure a trustworthy separation between public service and personal commercial gain when working with private industry.
This historical perspective provides real depth of insight into why the UK Civil Service is special and why, as a nation, we should cherish it. Meeting departmental priorities rightly focuses our attention, but we mustn't forget we are part of a wider Civil Service and what that means. We should share and draw upon the wider Civil Service expertise.
Looking back can also make our current challenges seem less insurmountable – we are standing on the shoulders of giants and can take great confidence from them. Resilience in the face of challenge is a hallmark of the Civil Service, made stronger by our common commitment to the service of the nation.
My experience at Civil Service Live made me think in turn about my own leadership and challenges. I am now 18 months into my role as head of an organisation with over 3,000 staff and a programme of radical change ahead. The Leadership Statement helped me to make a pledge.
So, what is my pledge? I want to inspire all staff in the Office for National Statistics and across the Government Statistical Service to innovate and share that learning with the wider Civil Service – better statistics will help us make better decisions.
Why is it important to me? If we are confident about our role we will draw in and make good use of the most diverse range of talent to serve the public good.
How will I fulfil my pledge? By empowering everyone in my immediate team and beyond to be the best they can be, seeing my job as being to serve them rather than the other way round.
That is my take on the three words of the Civil Service Leadership Statement - inspiring, confident, empowering. What is yours?
If you would like to hear more of the Civil Service Story, look out for the sessions at Civil Service Live 2016.