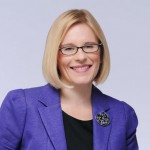 I'm really pleased to announce that I'm taking on the mantle of Civil Service Health and Well-being Champion. 
This is an area I'm passionate about. I strongly believe that we all achieve our best when we can bring our whole self to work - and that when we work in an environment that supports us as people as well as employees, it has a positive impact on our physical health and mental well-being.
This subject has been close to my heart for some years. In a previous role, as CEO of the Financial Ombudsman Service, our work on well-being helped us reach 25th position in the Sunday Times list of the '100 best companies to work for'. Now, as CEO of the Courts and Tribunals Service, creating a healthy and supportive environment for our people, particularly as we go through change, is high on my list of priorities. I have a lot of ideas on what we can do in the Civil Service to make it an even greater place to work, and am keen to work with others who are similarly passionate about health and well-being.
A healthier 'you'
Looking after ourselves should be a priority at all times, at work just as much as outside work. For example, are you taking the One You challenge? You might have seen the ad on as you're walking down the street or on TV. Why not download the One You activity or easy meal apps and find out more. This campaign is here to help us all stay healthy or get back to a healthier 'you'.
Also, let's not forget that Civil Service Live, the annual learning event and showcase for the organisation, is coming up in a couple of months. I hope you will join us at the 'Talking about Mental Health' sessions. It will be a great opportunity to hear from people who will be sharing their own personal mental health experiences. We've also got some practical 'Live well, work well' sessions planned. These will focus on the three Civil Service well-being priorities: mental health, musculoskeletal disorders and a healthy lifestyle.
Registration for CSL is now open, so book your place and make sure you don't miss out.
I'm looking forward to meeting and working with you all and hearing your ideas for improving well-being in the Civil Service.