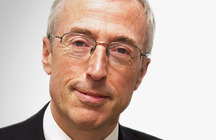 I thought I was OK on getting feedback. Then, a few years ago, a new colleague, originally from Scandinavia, and with a consultancy background, joined my team. Let's call her Tera.
The first year Tera gave me feedback, she told me I had too many meetings and they went on too long. I was rather proud of my meeting management skills, so this was unwelcome news. "It's the first time I've been told that," I said. "Well," said Tera, "I'm just telling you what people regularly say to each other on the way into your meetings…"
I realised that my standard feedback just wasn't picking up messages people really wanted to give me, as opposed to the sanitised version. But Tera told it straight. So, I shortened my meetings and got Tera to give me personal feedback every month or so on how I was doing. It was a bit like circuit training – uncomfortable at the time, but worth sticking at for the wider benefits.
Challenge and respect
When Tera moved on I asked one of my team to collect comments from my colleagues and everybody else and deliver them to me, together. This stops anyone feeling exposed by what they want to say and shows where there are shared concerns.
I do the same for my senior team, collecting all their comments on each other. And we choose one person to give us quick feedback at the end of each weekly executive board meeting. Not just on the decisions we reached but also on our behaviour – did we challenge each other properly? Do we respect different viewpoints? Were we all engaged in the decisions? Did the quiet people talk enough and did the extroverts manage not to be the first to speak every time?
Frank advice
To be a Permanent Secretary you have to stay in touch with what people across the organisation are most concerned about. I have worked with two upward, or reverse, mentors, offering me frank advice on how colleagues feel about the working culture of BIS. They help me understand the impact I and senior colleagues have through our behaviours. Are we visible? Are we really listening to the challenges people face at the sharp end of delivery? Are our messages the right ones and are they being heard?
Our diversity groups also offer challenge and feedback about the impact of change on people. They help us celebrate the range of people we have and make sure we support each other properly. Colleagues sharing their personal stories on internal blogs have a big impact. New arrivals tell me their first impressions, and time spent running into colleagues in the excellent BIS canteen is never time wasted. I have learned that good feedback will only come from colleagues who feel valued and respected for not just what they do but for who they are.
Then they take the risk of telling me what I need to know, not what I want to hear. And then I can do something about it – including holding shorter, better-focused meetings…