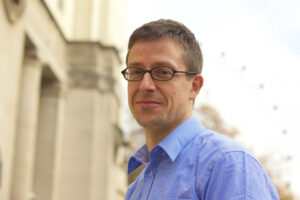 Back in October, Philip Rutnam, the Civil Service Disability Champion, announced that the UK Civil Service had joined the British Stammering Association Employers' Stammering Network (ESN). As a lifelong stammerer I found this truly uplifting.
For much of my working life, stammering has felt marginal to the mainstream of Diversity & Inclusion, perceived as a sort of comedy bit-part condition. Philip's announcement was also a welcome development for the British Stammering Association, because the Civil Service offers a high-profile platform upon which to develop and showcase good practice in employment.
Last week, I attended a trial ESN workshop entitled, Successfully navigating employers attitudes towards stammering. First in a series of three, it was designed to arm corporate champions to return to their places of work – EY, Accenture, Citigroup, and Deloitte, to name a few – and engage with traditional views about stammering.
Disability models
The session was kindly hosted by EY at its More London offices. Our tutors were Rachel Everard, a longstanding therapist at the City Lit (and herself a 'covert' stammerer), and Sam Simpson of Intandem, a pioneer in merging traditional speech therapy with person-centred counselling. Uniquely, as a third tutor, Iain Wilkie, a senior partner at EY, brought his business experience and perspective to the course, grounding it in real-life corporate experience.
Early in the event, Rachel and Sam introduced three disability models:
the Medical model, which sees disability as a variation from the norm, requiring correction and adjustment to bring it into line
the Philanthropic model, which lavishes charitable resources, pity, special consideration, and stories of bravery and courage
the Social model, which recognises disability as relative to social barriers – attitudes, stereotyping, procedures, practices, and so forth
From the slides, I wrote down this (almost revolutionary) quote that had been lifted from the online Did I Stutter project:
Stuttering is only a problem – in fact is only abnormal – because our culture places so much value on efficiency and self-mastery. Stuttering breaks communication only because ableist notions have already decided how fast and smooth a person must speak to be heard and taken seriously. An arbitrary line has been drawn around 'normal' speech, and that line is forcefully defended.
Corporate cultures
As a group, we discussed the cultural landscape – one of perfection, performance, efficiency, efficacy, productivity and time-effectiveness. We considered the onus for polished, edited, media-style presentation, and for relentless self-improvement.
Turning to individual corporate cultures, Sam and Rachel displayed images from official websites, and we explored the values that different employers appeared to wish to project. The images from the defence industry showed military figures on parade or on night-time exercises; you couldn't see their faces. People chipped in with such words as 'uniform', 'standardisation', 'conformity', 'efficiency', 'target-driven'.
Another slide displayed a selection of the myriad online advertisements featuring the words 'stop stammering' to promote speech therapy services of varying quality. This was offered as a possible symptom of social culture that takes a hard line on dysfluency (of which stammering is one form), no matter what the underlying cause.
"OK to stammer"
In the latter stages of the workshop, Iain Wilkie spoke about the experience of setting up the EY stammering network, and its growth over the last four years. We saw some examples from its recent poster campaign featuring five EY staff members who stammer, focusing on the strengths they bring to their workplace, with the strapline: "It is OK to stammer".
Much of the workshop was devoted to themed discussion in small groups. Personally, I took away real value in hearing about others' experiences in the private sector. It was also a useful reminder that as a condition affecting 1% of adults, stammering is an ongoing and everyday management and recruitment issue for any substantial employer – public, private or third sector.
Those who stammer are all as talented as those who do not, often bringing highly valued qualities – such as resilience, creativity and listening skills – as a result of their condition. Yet in practice, recruitment processes and career progression all too easily militate against success for them, such that they and their employers lose out.
Norbert Lieckfeldt, chief executive of the British Stammering Association, will be holding a one-hour lunch & learn session at 12:30 on 11 Feb, at 100 Parliament Street in Westminster, for civil servants interested in learning more about stammering. For more information and to register click here.
You can find more information about the Employers Stammering Network here.
To access ESN services please e-mail Helen Carpenter (ESN Membership Manager) at hc@stammering.org; or for more information on the Civil Service ESN membership e-mail inclusion@cabinetoffice.gov.uk.