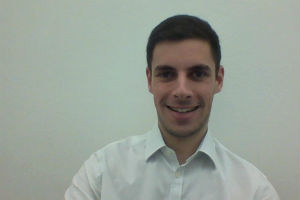 Holocaust Memorial Day 2016 will be marked on 27 January. How, in 2016, are we supposed to remember the horrors of Nazi persecution when they occurred long before many of us were even born?
A few years ago, while I was at home with my family, my Mum was sorting through some old boxes. She showed me, among other things, one of my grandfather's school exercise books from his childhood in Germany. Like any schoolchild, he had carefully written the date at the top of each page and completed that day's work below.
As I flicked through the book, the writing suddenly stopped around halfway through. The date was early 1939. The following day, he came to Britain on the Kindertransport, the trains which rescued thousands of children from Nazi Europe.
I remember being moved when I saw those empty pages. On the one hand, I found hope in the fact that he had escaped to a safer and happier life. On the other, I was shocked at how his future in Germany – something as seemingly mundane as going to school – had suddenly vanished.
How can you relate?
But seeing the book moved me for another reason. The terrible suffering experienced by so many during the Holocaust can sometimes seem difficult to relate to. Only those who went through it can truly understand the pain that millions went through. The experiences of a schoolchild are, however, closer to home. We were all once filled with the innocence and hopes of childhood, and can realise the cruelty of having that so suddenly taken away. My grandfather was one of the lucky ones; over 1 million children were killed in the Holocaust and many more survived only having lived through the ghettos and death camps.
For me, remembering the Holocaust means remembering how fortunate my family were to escape to Britain. It means remembering the hatred which meant that they had to escape at all. And it means remembering how many others had their lives and dreams ahead of them cruelly taken away.
Don't Stand By
The theme of this year's Holocaust Memorial Day is Don't Stand By. This means speaking out when we see cruelty or hatred anywhere in the world today. But it also means continuing to remember the events of the past, and not assuming that others will do this for us. So please, this Holocaust Memorial Day, try to hear a Holocaust survivor speak at one of the many events across Whitehall and the rest of the UK. Listen to their stories, pass them on, and ensure that we remember how relevant this uniquely awful chapter in history is still today.
JNet is open to all civil servants. To find out more about JNet and register for upcoming events, please contact adam.taylor@hmtreasury.gsi.gov.uk. You can also follow them on twitter: @CSJewishNet