When I spoke at the launch of the refreshed Talent Action Plan (TAP) on 26 March, I was struck by the diversity in the room. The Civil Service has made huge strides, but we aren't yet on a par with that audience. Our challenge now is to identify and remove the remaining barriers that prevent talented people from joining the Civil Service and making a successful career of it, including in senior positions in all Government departments.
As an economist, I'm keen on looking at the evidence. The data on diversity in the Civil Service provide sobering evidence of continuing barriers preventing many of our colleagues from reaching their full potential. That's a waste of talent we simply can't afford.
My experience
When I joined the Treasury in 1989 there were almost no women in the senior ranks, or indeed in policy jobs! Maternity leave was three months, flexible working unheard of, and part-time meant a full-time job for part-time pay. I would not say there was any overt discrimination, but women definitely felt that performance short of the very best was more noticeable. When I subsequently spent four years at the British Embassy in Washington, I was the only woman among the 16 senior officials, so again felt under extra pressure. I have tried to support women personally and promote gender issues generally, though, ironically, I never saw myself as a role model until I left the Treasury in 2006.
As a Director at the Treasury, where I was Disability Champion, we sorted the issue of apparently poorer performance among disabled staff by ensuring they had properly adjusted objectives. Then, at DFID, I championed LGB&T staff, and led work for the Cabinet Secretary tracking the evidence on women's progress into the senior Civil Service. Monitoring and sharing data on diversity is a powerful tool.
Staff Networks
I am a big supporter of staff networks. I hosted LGB&T network meetings in my previous job at DWP and helped prepare our entry for the Stonewall 100 index of top employers. Now, I'm pleased to work closely with the Civil Service Rainbow Alliance (CSRA – LGB network) and a:gender (network for transgender and intersex staff). There are representatives of both networks on my LGB&T Diversity Committee, supporting me in my role as Civil Service LGB&T Champion.
The TAP outlines several new measures to support staff networks. There will be new funds they can bid for, which should help those struggling for resources. The work of network leaders will also be recognised in their annual performance assessments, demonstrating how the Civil Service values their contribution to business priorities.
IDAHOBIT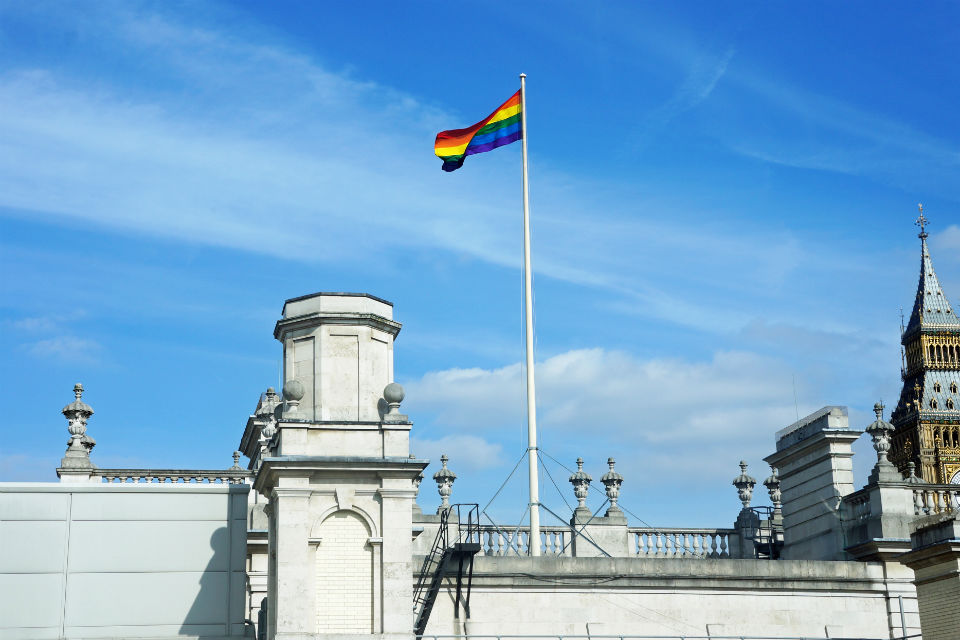 On 17 May, the Civil Service joined organisations in the UK and worldwide by marking IDAHOBIT, the International Day against Homophobia, Biphobia and Transphobia. To show our support, many departments took up my suggestion and flew the rainbow flag from Government buildings, including mine, shared between DCMS, HMRC, Cabinet Office and the Treasury, while GCHQ's iconic doughnut was lit up in rainbow colours, as described in Robert Hannigan's fabulous blog.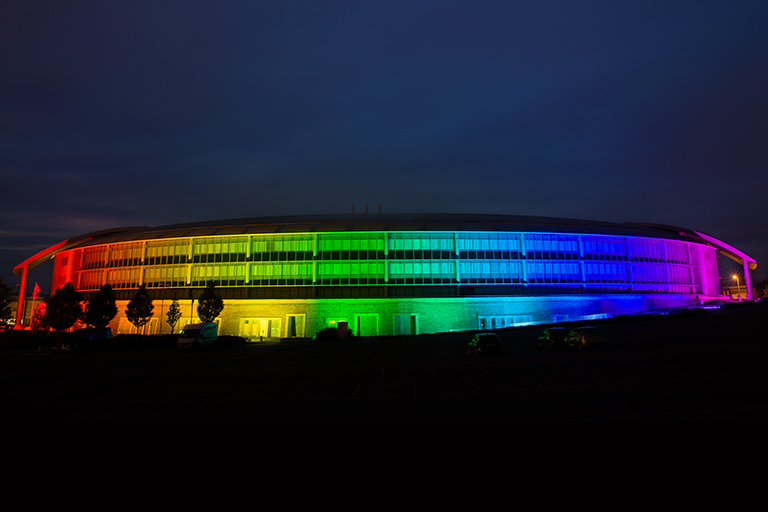 The annual Civil Service People Survey shows that staff in minority groups are more likely to feel bullied and harassed. Crime statistics show a disturbing increase in homophobic and transphobic hate crime in recent years. In too many cases, these have resulted in injuries and even tragic deaths.
We should have zero tolerance for this: everyone should be free to go about their lives in peace. Tolerance of bullying melts away if challenged by the rest of us, so I was happy to support the Stonewall 'No Bystanders' campaign against bullying and would strongly encourage others to do so.
Positive Action
So, what are we doing to help? The Positive Action Pathway 'Levelling the Playing Field' programme is designed to equip participants from grade AA to Grade 6 with the skills and confidence to realise their potential and assist with career progression. I spoke at the launch event of the grade 6 and 7 cohort on 30 March, the first time the programme had been open to LGB&T participants.
The TAP commits to increasing the number of Positive Action Pathway places from 200 to 1000 to increase the impact on talented staff progressing their careers. There will also be a new programme, 'Accelerate', targeted at SCS grades, to tackle the noticeable lack of diversity at this level.
Challenge, Change, Champion, Cardiff 2015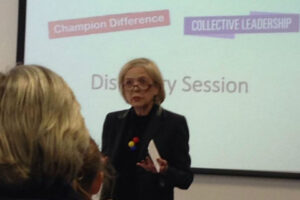 The message about our plans can't just stay amongst Whitehall policy folk.  It's critical that everyone is engaged in the discussion. Last month, I spoke at the "Challenge Change Champion" event in Cardiff, one of several similar events taking place across the country.
During the event, I was struck by a question about managers so driven by performance targets that they are reluctant to give staff time to attend network events or diversity programmes. We absolutely must get across that this is time well spent, that ultimately improves performance, and signalling this by rewarding those at all levels who role-model by encouraging diversity.
Awards
Finally, it's great to receive recognition for a job well done! Civil servants are frequently seen as exemplars of excellent practice. Two were recently highly commended in the Excellence in Diversity Awards – Jacqui Gavin, Deputy Chair of a:gender, in the Public Sector Diversity Champion section, and Jen Gagg, CSRA Representative for Yorkshire & Humberside, in the Employee of the Year section, for her HM Prison Service work. Well done to both of them, and to all the outstanding Civil Servants who took part!
On the subject of awards, nominations for the Civil Service Diversity & Inclusion Awards 2015 are now open - a good time to put yourself or your team forward and share your work with colleagues across the Civil Service. I was a judge for the awards last year, and presented an award. It is such an inspiring and uplifting event, showcasing amazing working up and down the country, so hurry up and get your submission in!