It's been a couple of months since the rollout of new technology to Cabinet Office staff and it's now a frequent sight in some buildings to see small groups of people meeting in break-out areas, huddled over their laptops.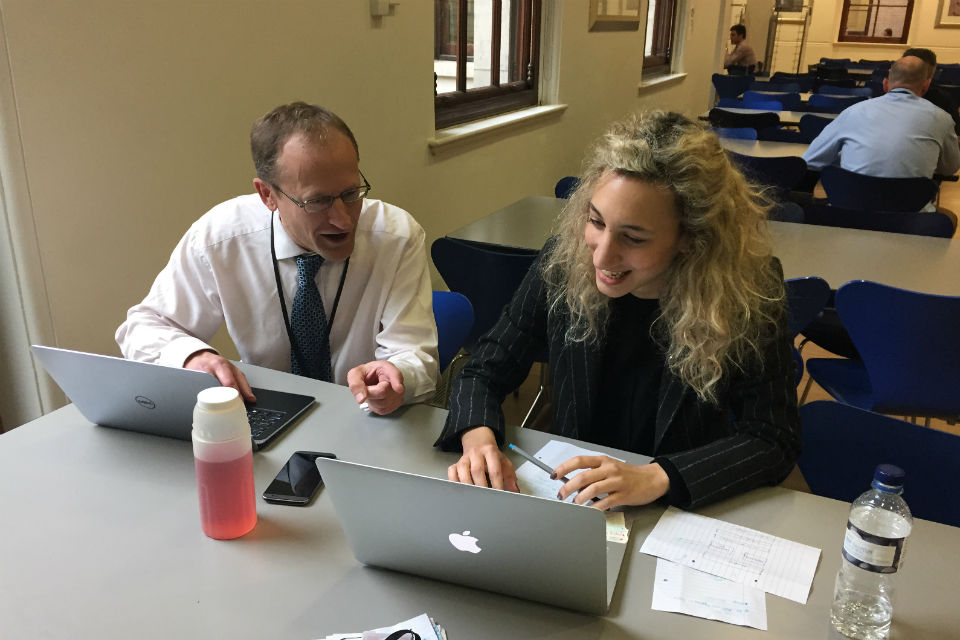 Rewind to October 2013, and the picture was not quite as rosy. Back then, staff told us during user research that they would very rarely take their laptops anywhere because they were heavy, unreliable and the wifi was patchy.  The old laptops also needed to be attached to a cable at their desks to access shared drives.
All change
The Cabinet Office Technology Transformation (COTT) programme started rolling out to staff in October 2014 and has resulted in over 1,700 Cabinet Office staff receiving new laptops, new software (Google Apps for Work) and access to the internet and cloud-based apps.  And high quality wifi has been installed throughout the Cabinet Office estate in Basingstoke, Norwich and in all the London locations.
I have been speaking to representatives of different teams across CO, and it's clear that the change in technology initially presented a challenge of some degree to everyone.  For instance, many people have found the switch from Microsoft to Google difficult - not because one or other is better or worse, but because years of familiarity make switching hard.
Positive
Now that the dust has largely settled on what has been a hugely ambitious and challenging initiative, though, I've been curious as to whether it has made a difference to the ways in which staff are working.  And from what I've heard, it sounds like positive changes are happening.
Even those teams who miss their old Outlook and Calendar admit that they don't miss the 7-15 mins it used to take for their old computers to boot up - or the same amount of time to log off.  One member of staff in the Commercial Models team reckoned she had gained 30 minutes in her working day due to this alone.
Mobility and remote working
The lighter laptops, longer battery life and all round better connectivity are enabling remote working on the move, from home and in other government departments' offices (both in Whitehall and regionally).
This new flexibility in where we work has created some interesting opportunities for collaboration. The Cities and Local Growth Unit, for instance, formed a joint working team with colleagues in BIS and DCLG, and started working in the DCLG's office in Marsham Street every Friday.
Also, in a development that must be good news for the environment, many are now reading documents on their laptops in meetings, rather than printing them.  And many are typing directly into their laptops, rather than taking written notes in meetings - doing away with the need to transcribe notes later.
Collaboration
While there are differences in the degree to which teams have embraced the new collaboration tools such as Google Docs and Google Hangouts, there is no doubt that the ability to work on documents together in real time has been a revelation to some teams.
As Carol Gokce in the Electoral Registration Transformation Programme says:  "Google Docs speeds up the drafting of all documents, particularly complicated ones and they enable you to get more brains working concurrently on the same document."
This doesn't mean everybody is a convert to Google Apps for Work - in moving to new tools, people inevitably find some new functions that they like and miss other functionality that they've become accustomed to using.
And sharing documents with Departments which don't work in Google Docs is not as easy as most would like.  But the consensus seems very positive for a department where many staff work on policy documents with colleagues located in different locations.
Benefits
Some of the other benefits I heard about include:
The fact that monitoring the size of your Inbox - and frantically having to delete emails when you've reached your limit - has become a thing of the past, thanks to Google Mail, which has no limit.
That desk space pressure has eased for some teams now that more remote working is taking place.
That having access to work productivity tools such as Eventbrite and Survey Monkey is making a big difference to the organisation and running of events, the circulation of team surveys etc.
That "attending" meetings taking place in the office when working from home or remotely is now doable thanks to Google Hangouts.  And that Hangouts are also proving easier to hold in the office as you no longer need to book special equipment.  And "it just works".
That the new system rarely crashes so "it's almost impossible to lose your work".
It has to be said that the COTT team anticipated a lot of these benefits.  The user research conducted at the outset of the project - and throughout the rollout with the Trial Users - meant that they had a pretty good idea of the eventual upsides to the project.
But there have been some unexpected - and unanticipated - by-products of the new technology that it has been particularly thrilling to hear about:
Inclusion
One staff member from the Fraud, Error and Debt team talked about greater feelings of inclusion in his team now that more documents are being shared with them for their input.  (Again, the limitless Inbox is undoubtedly a factor here.) And also that there is now greater visibility of individuals' contribution on shared documents, as everyone can see every single individual's comments, rather than their comments being aggregated by their line managers.  In some cases, this is giving rise to reappraisals and new appreciation of colleagues.
Trust
There also seems to be a higher level of trust from Managers when it comes to their team members working away from the office. Managers seem to be more relaxed as they know that staff have the wherewithal to get on with their work and won't be hampered by remote connectivity problems.
Travel
Lastly, I heard about a greater willingness, among some staff, to travel to meetings around the country as travel time is no longer considered "lost" working time.  Being able to view documents on phones and to access the internet and shared documents when away from the office has made it easier to work on the move.
Improve and evolve
Technology change programmes are rarely easy or straightforward - and the COTT programme has been no exception. Technical glitches at the start of the rollout affected printers, wifi connectivity and the transfer of existing files from the old Flex-R system to the new system.
Happily, the major issues have been resolved and the Service Desk is working its way through a backlog of "tickets" relating to individual problems.  And the Digital and Technology Team will continue to improve and evolve the technology service to best meet Cabinet Office users' needs.
What's clear is that the new technology in Cabinet Office is enabling new ways of working which are giving staff something to cheer about.