"Diversity in GCHQ has come a long way in the last 20 years", tweeted Sir Jeremy Heywood - and he is right! I was incredibly proud to see the media focus on GCHQ last week - for all the right reasons - and Alan Turing's nephew, Sir John Dermot Turing, encapsulated our vision when he spoke out about the importance of staff being free to be themselves, bringing their talents unencumbered to bear on the vital work we do.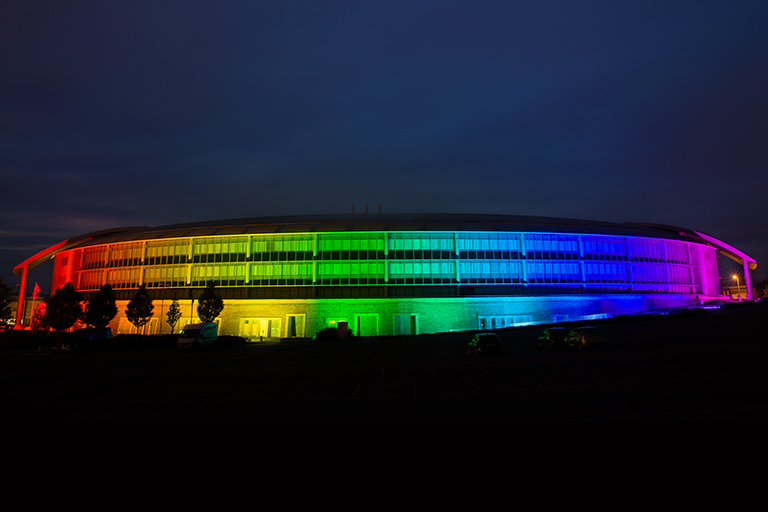 The Stonewall audit shows there is still plenty of work for us to do here, but my staff and I share a common passion for inclusivity and I see that reflected everywhere, from the interactions in and around our building to the comments passed on our internal blog. Never more so, in fact, than following the announcement that for the International Day Against Homophobia, Transphobia and Biphobia (IDAHOT) 2015, the "doughnut" would be lit in rainbow colours and the Pride colours would be flown beneath the Union Flag.
We are a unique organisation, and much is made of the GCHQ culture, but our people really need to reflect our rich and varied society. Any initiative that seeks to inform and strengthen that society will gain my support and my Board members and Top Management Group know this, actively encouraging participation from every level of the business. My senior civil servants all have personal action plans for Diversity and Inclusion, whether that means acting as an internal ambassador for the UN heforshe campaign or drawing attention to Deaf Awareness Week by spending the day in industrial earplugs.
Our employee networks for women, BME, LGBT and disabled staff, as well as the members of our Women in Tech, Straight Allies and Accessibility initiatives, all work tirelessly to increase inclusivity. Our week-long Diversity Festival in 2013 saw external speakers from all walks of life reach into our otherwise walled-off work lives and make connections with staff.
We have also had great press interest in our neuro-diversity work. We have long valued the unique contribution that those with different minds can bring and have a larger representation of colleagues on the autistic spectrum or with dyslexia or dyspraxia; they are core to our mission.
Diversity for us, like the rest of the Civil Service, is not just a moral imperative - it is business critical. We are recruiting highly skilled staff who are in demand across the private sector, so we must send a positive message not just to staff, but to future recruits, for whom Diversity and Inclusion has been shown to be a key factor when considering employment, about GCHQ as an organisation. In order to recruit from the widest possible pool of talent, we need to create the open, inclusive environment in which technical innovation thrives. That was true for GC&CS when Alan Turing and his team produced their pivotal work, and it is just as true for GCHQ today. I am very proud of that.