New project - deadline 3 weeks - scribble in notebook - campaign comms plan to write by next week - scrawl post-it note, add to colour-coded post-it-note-papered desk backboard - missed a deadline - *!##!*!!# - make mental note to plan better - Fred asks if I've written stakeholder briefing - look for pink post-it note - (think it was pink) - find torn under desk - briefing should've gone to policy yesterday - help! - pen post-it note to self, 'must plan better' - spill coffee on it - check project grid - not updated for a week - project evaluation overdue - not even started - panic!
If this is this what your project management and planning are like, you need help.
Of course, relying on memory and post-it notes is an extreme case, likely to end in tears as you juggle so many balls you don't even notice the ones you've dropped - until you drop them all! And it is quite possible to manage a project using traditional spreadsheets and grids, even manually updated display boards and logs. But there are more modern, convenient, interactive ways to keep track of multiplying tasks - even if you think you're quite good at keeping tabs on things.
Well, that's what a tech-aware colleague said, as he introduced me to project management app Trello. This would transform my work, and the team's, he said - "I use it, and it's great!"
So, for the last two months, I've been using it, too.
Connecting with colleagues
First impressions. It's really easy to get the hang of. What's the best thing about it? It may seem obvious, but it connects you with people, not just immediate colleagues but anyone and everyone you're working with on a project.
Admittedly, it makes it more difficult to lurk in your hermetically sealed personal silo, content to get on with things on your own, because that's the way you like it.
You could say Trello shakes you out of this illusory comfort zone - illusory, because lack of co-ordination with colleagues and stakeholders means deadlines are missed, bottlenecks bulge, project targets are compromised, and the buck is likely to stop - most uncomfortably - with you!
Using Trello, everyone involved in a project can see at a glance what stage it's at, who is responsible for what, which tasks have been completed, what's next, etc. And you can update it anywhere, at any time. With this sort of agile interaction, projects are likely to run more smoothly.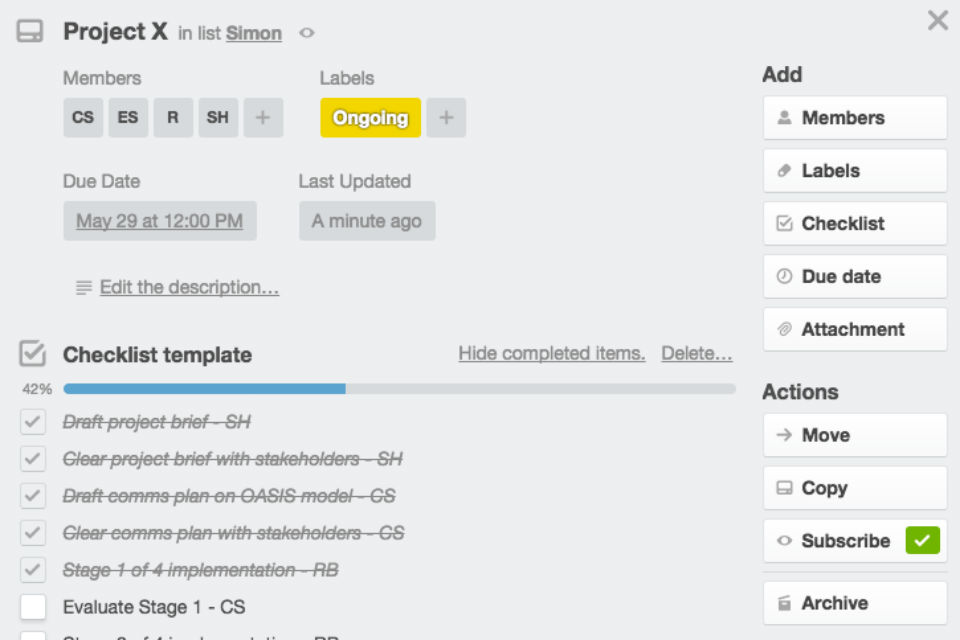 In my comms team, we can be working on numerous projects simultaneously, small and large, short and long - from one-off blog posts to fully fledged comms campaigns, often with extended clearance/approval lines, involving multiple stakeholders, and exploiting multiple channels. Trello helps us to keep track of all these elements - and each other.
Red alert
Each member of a project group has a column, which acts like a virtual card index. Each project or job appears as a card.  You open a card to show all the details of the job - due date, a checklist of required actions, space for comments on activity, a record of who's done what, and the last time it was updated. The checklist can be as long or as short as you want, including just the main actions, or the intermediary ones as well.
Alerts can easily be set up to let card subscribers know when something's been changed/updated, and due-date alerts keep everyone on the ball. The project due date also appears, colour-coded, on the 'front' of the card, according to how near it is. (It blushes red if overdue!)
When you've completed a task, you can drag and drop the job card to the person responsible for the next task on the checklist - and this automatically triggers a message to them, so they have no excuse for not knowing!
To provide a full picture and context for each job/project, you can attach important documents, source material for blogs, briefings, etc., to a card, allowing you to share them with colleagues or work on them together. Documents can be simply dragged and dropped from your desktop. You can also cut and paste in links to relevant external sites.
If you want to, you can drag cards to a different board, another job list or a different position on your list. And if you regularly work on a specific type of project, to save effort you can create a job card template for it.
Computer geekery not required
It's a lame - and dated - excuse to say "I'm no digital whizz", as a cop-out from learning anything new that's technology-based. You don't need to be one. Think of the way you were working 10, 5 even 2 years ago. All the digital technology that may have seemed daunting at the time, quickly became routine; and the ongoing technology transformation in departments is making new solutions more accessible.
I find Trello pretty straightforward, and much more user-friendly than the 'spreaded dreadsheet' (I think that's right!). If unsure, I have the aforementioned techie on hand to answer FAQs (frequently asinine questions), not because he is digitally highly literate (though, grudgingly, I admit he is) but because he's a practised Trello user and a treasure trove of tips.
Other solutions are available - I believe you're obliged to say - but if the future of the Civil Service is smarter, closer, quicker, more flexible working with colleagues, wherever they or you happen to be, then apps like Trello can certainly help. And you can do your bit for the rainforests, too - sorry, post-it-note manufacturers!