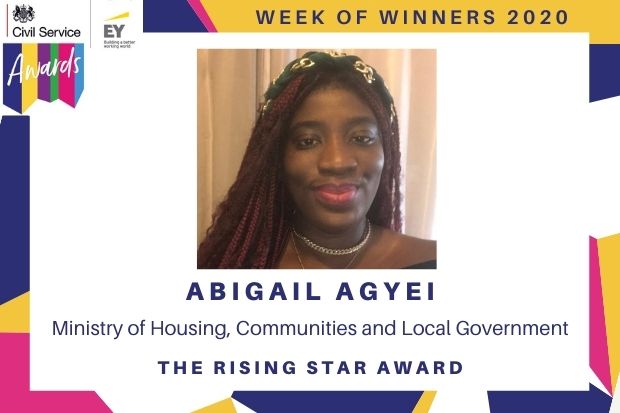 Rising Star Award winner Abigail Agyei has certainly made an impression in her work at the Ministry of Housing, Communities and Local Government.
This award, announced by Antonia Romeo, Permanent Secretary at the Ministry of Justice, recognises a civil servant who has made a significant impact within the first eight years of their Civil Service career. Abigail, who joined the Civil Service seven years ago this week, certainly fits this description.
Surreal
Abigail, who was "overwhelmed just being nominated," said that hearing her name called out as the category winner was "truly surreal, but such a lovely recognition." She was recognised for her work supporting and amplifying the voices of marginalised and minority communities, and leading conversations on race in the Civil Service in order to create an inclusive, safe and accountable culture.
Looking back on her Civil Service career so far, Abigail "cannot believe where the time has gone, but what a journey it has been." She is extremely motivated to continue with this important work, advocating for groups in communities who may not always feel seen, heard or understood by the government. She particularly enjoys being able to "connect, build and maintain relationships with stakeholders and groups to support communities and create change."
Serving and supporting communities
For Abigail, being a civil servant means having a passion and dedication to public service and finding the best way to serve and support communities. She believes in making sure this is reflected in the Civil Service too, as "we can only truly serve our communities effectively when this is echoed in our workforce, making sure we have created an inclusive, inspiring, safe and empowering culture."
Looking ahead to the rest of 2021, this year's Rising Star will continue to explore the disproportionate impact COVID-19 has had on marginalised groups, especially following the Prime Minister's recent roadmap announcement. 
Abigail's main focus at the moment is working with her team on vaccine hesitancy, rates of which are higher in Black, Asian and Minority Ethnic and some faith communities. She will look at "how we can get the message out effectively to them, but also make sure we are listening and understanding concerns from these communities."
As part of this, Abigail is also working on an internal survey in her department's BAMEnet network, to see how ethnic minority staff within the Civil Service are feeling about the vaccine, with the hope of taking this wider across the Civil Service.
Power and peace
Abigail always aims to keep in mind a piece of advice she was given that particularly resonated with her: "Not to attach yourself to a company, organisation or a project, but to a mission, a calling, and a purpose; only this is how you keep power and peace."