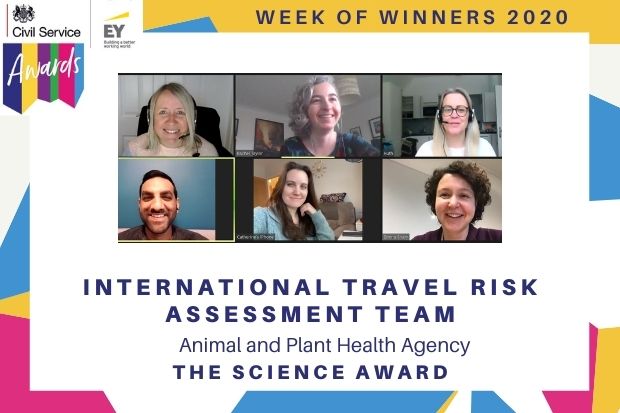 It's a sign of true recognition when Sir Patrick Vallance, Government Chief Scientific Adviser and now a household name from the Downing Street briefings, announces your name as the winner of the Science Award.
The International Travel Risk Assessment team, made up of Rachel Taylor, Catherine McCarthy, Virag Patel, Ruth Moir, Louise Kelly and Emma Snary, joined forces with Public Health England to develop innovative models to inform the UK government on the risk of entry of SARS-CoV-2 to the UK via international travel.
No comfort zone
They won their award for delivering high-quality, in-depth, rapid risk assessment regarding international travel risks and alternative measures to 14-day quarantine on arrival from other countries, in light of the current COVID-19 pandemic. They stepped out of their comfort zone and stepped up to the challenge to aid Public Health England.
Speaking about their win, the team said their overwhelming feeling was pride.
This was a large and complicated project under incredible time-pressure. The pressure from policy and the general public at that time was tangible, which we handled with good humour and perseverance. We're all so pleased to be recognised for this work.
Creating a better society
They are humbled and honoured that their work goes towards informing policy, creating a better society and, as part of APHA, protecting animal and plant health and welfare. They explained that when work like this is so important and has such a potential impact, "the responsibility and determination to do a good job enhances the satisfaction when work is done well."
Novel solutions
As everyone in the team comes from a quantitative background, they had a shared motivation in their "desire to solve interesting and challenging problems". They noted that "being presented with new and difficult questions, such as this project, can drive us to work harder, find novel solutions and, most enjoyably, combine our skills together to achieve so much more than we could individually".
Keep your compliments
For the times when motivation can be harder to come by, they recommend to "keep a record of all the compliments that you are given during your day-to-day work, from small sentences of thanks to official plaudits and large awards" to give yourself a boost. "Next time you're having a bad day or something hasn't gone the way you planned, the record of compliments can be a life-saver to remember times when you've really made a difference. Be kind to yourself."
As 2021 continues, so too does the risk assessment. The majority of the team will be involved in work arising due to EU Exit, such as large-scale risk assessments for new market access requests as the UK forms new trade deals with other countries. They are looking forward to using skills they have gained through this work, such as teamwork, delivering at pace and attention to detail, in these endeavours.