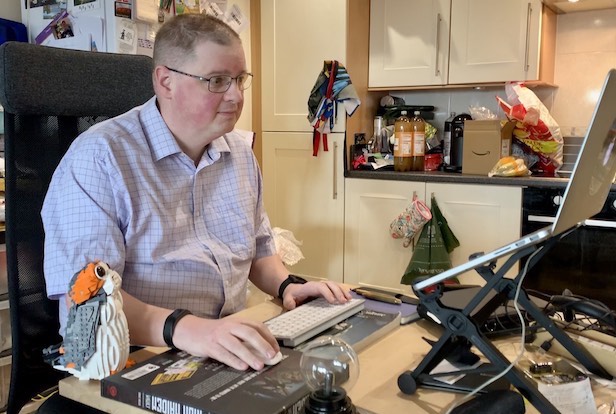 The Civil Service Disability Network has been around for 21 years now. Our remit is to champion disability, remove barriers and influence change. I guess all those years ago, we didn't think that it would still matter today as much as it mattered then.
One evening over a couple of pints, a group of civil servants were discussing the major issues of the day. All had a keen interest in disability, had a disability, and were fighting their own battles within their departments.
Four years previously the Disability Discrimination Act (1995) had been passed, but this still meant that you had to be prepared to call out when things were wrong.  Unlike now where the public sector has to try and pre-empt issues, things don't always work but thankfully, it's much better than it was 21 years ago.
Going back to the network, they started to draw out on the back of an envelope what they wanted to achieve. Their goal was a network for disabled staff run by disability staff which would 'pester' key teams within the Civil Service. It would also network with other departmental networks, and influence policy.
Today, looking back over the last 21 years, CSDN has achieved this establishing more than 55 departmental networks. All working with senior civil servants, working with central civil service teams and keeping the agenda of disability very much on the table. Another history fact is that one of that group is still part of CSDN now.
It's clear that many things have changed over the years and over the course of the pandemic. It serves as a reminder that, whilst considerable change has taken place, and in the most part for the better, we still have a long way to go.
Remember things that help remove barriers for people with visual or non-visual disabilities will actually help everyone in the long run.
It's all about access… The Civil Service Disability Network has been working since 1999 to improve the management, development and attainment of disabled civil servants.
One of the key issues we have discussed since our beginning has been ensuring access for those who have sensory impairments, neuro-cognitive impairments and amazingly, still, physical impairments.
This has been a tough year for everyone, but for some disabled people it has been business as normal. Being restricted to a limited set of interactions, working at home, communicating primarily via electronic means, is a way of life for some colleagues with disabilities.
For others, access was more visceral, as the pandemic's first wave took its toll. Access issues for people who were "extremely clinically vulnerable" focused on worrying whether they could rely on securing regular delivery slots for essentials.
As things settled down, the supermarkets did a good job building capacity, the home delivery boxes became more regular and access requirements changed.  Those who worked at home normally were able to pass on hints and tips to those discovering the delights and downsides of doing it for the first time.
Virtual networks stuttered and stabilised, and in the beginning, everyone accepted that this was an emergency. There was also a 'blitz spirit' to help those who couldn't access information to access the videos, documents and webinars that were rushed out and where the access standards slipped.  Closed captions weren't turned on, images weren't tagged, PDFs were used when more accessible formats would have been more useful and 101 other issues…
While this was understandable for the acute phase, the wider Civil Service worked out how to work in this brave new world of Covid.
The Brilliant Civil Service can do remarkable things, it has done many remarkable things over the last eight months, including trying to make sure that some of the set piece events are accessible.
However, the Civil Service Disability Network still has to ask for things to do done accessibly, remind people of their legal requirements, the moral case for allowing all staff to access information, systems, presentations etc as a matter of course.
We are a Brilliant Civil Service; we now need to be a Brilliantly Accessible Civil Service.  Not just for Disability History Month but for all time, because it's the right thing to do.