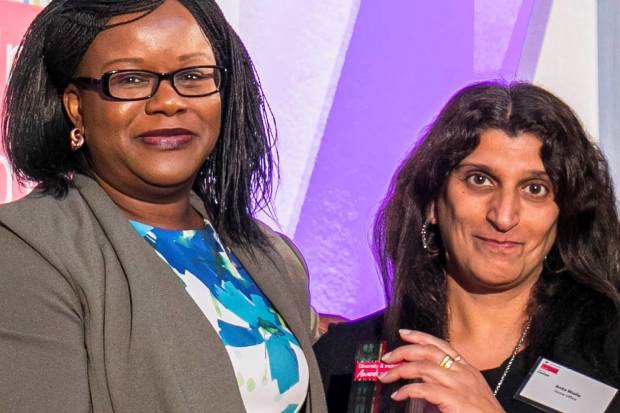 In 2016, Anita Bhalla decided to set up a cross-government network, Race to the Top, connecting BAME civil servants in the grades (G6/7) immediately below the Senior Civil Service (SCS), aware that many of her peers felt undervalued. At the time, only approximately 4% of SCS were from ethnically diverse backgrounds (now, over 6%) highlighting the scale of the challenge in ensuring the Civil Service reflects the communities it serves at senior levels. Luckily, Anita knew just the right person to bring in as co-chair, having recently met Bernadette Thompson and seen her drive, passion and commitment to effect change.  
Both co-chairs considered the barriers to progression for BAME colleagues in the workplace and amplified these issues across the Civil Service to obtain more support for BAME talent. They specifically focused on preparing members for leadership at the next level, while helping colleagues strengthen links with senior leaders. More than 1,000 members are now connected in a thriving community of interest (a high proportion of the BAME colleagues at these grades). Hundreds of members routinely benefit from a wide array of programmes and events offering bespoke and tailored support.   
The network's impact has been widely recognised internally and externally, winning a raft of awards. In 2019 it won the Public Sector Employee Network of the Year in the Employers Network for Equalities & Inclusion (enei) Awards, the Network Group category in the national Investing in Ethnicity Awards, and the Network Excellence Category in the Civil Service Diversity and Inclusion Awards. This is all the more remarkable for resting on the collaborative effort of just two civil servants, on top of demanding day jobs.  
Key factors in the network's success are:
Leadership in agreement:

The level of partnership, co-operation and mutual respect between the co-chairs has been integral to success.

Clear aims and purpose:

The network's overarching aim is to help prepare members for leadership at the next levels, providing practical support and opportunities to directly engage with and learn from senior Civil Service leaders, including professional leads.  

High volume of activities and regular communication:

Activities include

regular networking events for members to strengthen links with peers and senior leaders, and training sessions to increase preparedness for senior leadership. Regular circulars keep members informed of programmes and wider developments, and the network maintains an active social media presence.  

Flagship programme and senior sponsorship:

The network delivers the largest annual diversity initiative run by any government employee group. Each year, the BAME G6/7-SCS Shadowing Programme enables hundreds of members to shadow senior roles across government, including permanent secretaries, directors general and UK ambassadors overseas. Sponsorship of this programme by the Head of the Civil Service helped the network to establish credibility across government. More than 1,000 shadowing placements have been made.  

Access to senior leaders:

The network gives members opportunities to directly share views and perspectives with senior leaders. This has included roundtable sessions with both the Head of the Civil Service and the Civil Service Chief Executive. It has also delivered sessions focusing on the leadership journeys of those members already in senior roles, to inform and inspire.

Partnership and collaboration:

The network

has established partnerships with organisations including the FDA civil servant union, the Institute for Government and various training providers. It also has ongoing relationships with thought leaders and experts in race and inclusion, and partners with departmental race networks to deliver programmes.   

Providing challenge and solutions:

The network's Charter for Change sets out quick wins for departments/professions in increasing senior ethnic diversity by actively supporting and investing in their BAME SCS pipeline. This was circulated to senior Race Champions across government by the Civil Service Race Champion.  

Tailored support and focus on intersectionality

: Hundreds of women have benefited from the network's Women in Leadership Series. This brings BAME women together with senior women across sectors to discuss leadership and the complexities of intersectionality. The network also focuses on inspiring BAME men, with conferences on International Men's Day.  

Establishing/supporting sub-groups:

The network has established professional subgroups, allowing members to build stronger networks among peers and with senior leaders in their professions. It has also facilitated Action Learning Sets for those new to the G6/7 grade banding.

Inspiring the wider pipeline:

The network is visible at key internal and external events contributing to the wider race inclusion debates. It also encourages and enables members to act as role models and mentors to BAME colleagues.  
"I am delighted we have been able to assist so many BAME colleagues and that so many senior leaders across the Civil Service have actively supported our work.  We are also grateful for the critical support of our ongoing partners underpinning successful programmes.  We will continue to maintain a resolute focus on supporting our members to thrive and succeed across government."
Anita Bhalla, Co-Chair, Race to the Top G6/7
"We set out to inspire our colleagues to reach the next levels. We could not be more pleased with the success achieved and with the ongoing engagement with senior leaders. We celebrate the success of those members who have secured more senior roles and will continue to offer our ardent support to members still making this transition."
Bernadette Thompson, Co-Chair, Race to the Top G6/7