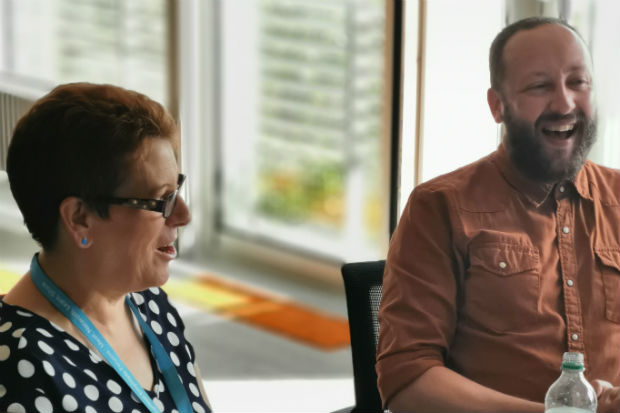 Debra Soper, Chief Operating Officer (COO) for Civil Service HR, and Jack Richardson, Head of the Government Recruitment Service, describe a new applicant tracking system that's set to transform government recruitment
Debra Soper: "A hugely welcome addition to the service GRS offers"
As the Government Recruitment Service (GRS) is part of the structure I lead, I was keen to see the team in action at the grass roots. In late June I made the trip to Newcastle, where many of our GRS people are based, to get a good measure of how the team was doing.
What I saw surpassed my expectations. I left feeling even more optimistic than when I arrived, not to mention proud of the work that this directorate does. One of the things that impressed me the most was the preparations then in train for a new applicant tracking system (ATS). This speeds up the whole recruitment process through greater automation and was launched shortly after my visit.
Jack Richardson, who heads GRS, provides further detail below about how the new system works. I'd like to emphasise here that it's a hugely welcome addition to the service GRS offers to government departments and agencies. With greater speed and ease of use its defining features, it's already making life better for participating recruiters and vacancy holders, with early feedback confirming a marked improvement in functionality.  
I know that teams across GRS have made a concerted effort to implement this new system and to help participating departments and agencies get to grips with it. The bedding-in process is still under way and we won't realise all the benefits overnight. But I have every confidence that this system will have a big impact on how we recruit in the Civil Service, with noticeable improvements at every stage of the recruitment journey.
Jack Richardson: "We're now even better-placed to deliver a streamlined service"
In these rapidly changing times, effective recruitment has never been more important to the Civil Service. Not only do departments want to pull in a more diverse range of talent, but they need the recruitment process to be as speedy and efficient as possible.
That's also a major priority for the Government Recruitment Service – and I'd like to thank Debra Soper for her endorsement of our new applicant tracking system. Launched last month, the system means we're now even better-placed to deliver a fast and streamlined recruitment service. While we've always tried to keep delays to a minimum, I understand how frustrating it is for hiring managers when the process takes longer than intended – and this new system goes a long way towards solving these problems.
The new system, known as vX, works with our existing technology to deliver a high degree of automation. Because there's a marked reduction in the manual inputs required, the entire recruitment process is quicker and easier to operate. That means hiring managers can access online information more quickly, and candidates find it easier to apply for jobs.
If you're a hiring manager, for example, you can now see the progress of each pre-employment check in real time, giving you a clearer idea of when a candidate is likely to join your organisation. And when a candidate accepts a provisional job offer, their candidate record is automatically pre-populated and the pre-employment process starts automatically – a significant move away from manual handling. These are just two benefits of the vX system, which prioritises the user experience.
The GRS vision is to be the recruitment partner of choice for government, and we already deliver around two-thirds of the recruitment across the Civil Service.
As part of Civil Service HR and the Cabinet Office, we're an 'in-house' recruitment team and uniquely placed to deliver the service that departments and agencies need. We can deliver more quickly because anyone can access our services and you don't need to go through a lengthy procurement process. Not only that, but we can offer substantial savings compared with external agencies. Our service 'menu' is built around customer need, with the flexibility to take on as much or as little of your recruitment campaign as you wish. HR teams can commission our services for their department or hiring managers can use us directly for specific campaigns.
Over the past two years, the Government Recruitment Service has more than doubled in size – and over the next two years we aim to extend our reach even further across the Civil Service. We'll be building on the range of services we already offer, from bespoke campaigns to cutting-edge online tests, and exploiting the opportunities of big data.
If you'd like to find out how we can help with your recruitment campaigns, please email us: newbusiness.grs@cabinetoffice.gov.uk.