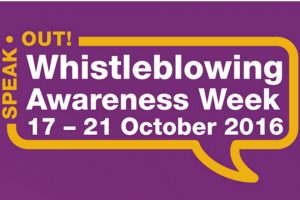 I'm writing today about a topic that is incredibly important to me, and indeed to the whole Civil Service – whistleblowing.
Whistleblowing is the process of raising a concern about possible past, current or future wrongdoing in an organisation or group of people. We don't do it enough, and I want to encourage a culture that is open to hearing issues and resolving them in the proper way.
This week is Whistleblowing Awareness Week across the Civil Service. Departments have organised a range of activities to raise awareness of the process by which concerns can be raised and of the resources available to support you in doing so. You can check your intranet or contact your HR team to find out more about how your department is taking part.
I want to assure you that when you raise a concern it will be treated seriously and in confidence.
If something is concerning you, the best thing to do is to speak to your line manager or another manager you trust for advice. We encourage this as a first action because your line management should be ready to listen and engage. It is important to know that you don't need to provide any proof in order to raise a concern, just to have a reasonable, honest belief that wrongdoing has occurred or is likely to occur.
Sometimes you may not want to raise things with your line management and prefer to discuss the issue with someone outside of your immediate work environment. That is why each department now has at least one whistleblowing 'Nominated Officer'. Their role is to support individuals (and managers) in dealing with concerns by providing advice on how the process of raising a concern works; and to help individuals to escalate issues within the department where appropriate. Nominated Officers have been trained and will treat any issues with the utmost professionalism and sensitivity. Contact details for your Nominated Officers should be available on your intranet.
But what this week is really about is creating a culture where civil servants feel empowered and confident enough to raise concerns when they feel that something is wrong. That is the sign of a healthy organisation.
I don't pretend that this is easy, and it will certainly take time. But I can assure you that this issue has the attention of the leadership of the Civil Service, and we will be discussing how to further build this culture at this week's Wednesday Morning Colleagues meeting for Permanent Secretaries.