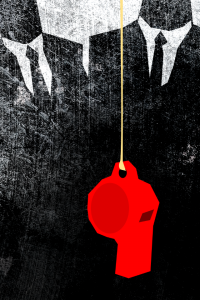 Whistleblowers have been instrumental in bringing to light some of the most high-profile public service failures of recent times, including those connected with the Hillsborough disaster and the Mid Staffordshire NHS Foundation Trust.
We owe a debt of gratitude to the public servants who expose wrongdoing, malpractice, neglect and unethical or illegal behaviour in the services people rely on in their everyday lives. But the appalling treatment of some whistleblowers only compounds the scandals they have uncovered.
This gives a strong clue why, for every whistleblower who speaks out, there must be others who, for various reasons, have remained silent. They may have faced intimidation, ostracism, or they are contractually 'gagged'. Others, fearful of dismissal or other sanctions and unaware of what protections they have, may understandably - if regrettably - keep quiet. And then there are those who see evidence of abuses but simply don't know how to go about reporting them so that they can be properly investigated.
No one should be exposed to personal and professional risk for doing what is in the public interest.
The Civil Service is committed to openness and transparency - to build trust, sharpen accountability and drive improvement in services. Transparency means not being able to pick and choose what is visible to scrutiny, it should shine a light into every corner of public life and public service. We fatally compromise this principle if we allow uncomfortable truths to be hidden or covered up.
Having proper and credible procedures in place to accommodate whistleblowers and their concerns, not only protects them but the integrity of public services. The system itself should facilitate not intimidate - and whistleblowers should have confidence that action will be taken against anyone who victimises them.
We want a culture that encourages people to raise concerns and to blow the whistle if they are not heard. We also want a culture that learns from concerns being raised and whistleblowing. In such an environment, public services can only improve, the occasion for whistleblowing will decline, and the reputation of honest, conscientious public sector workers and civil servants - the vast majority - will be preserved.
The Government has been working to address these issues, making existing policies on whistleblowing more effective and more responsive to the needs of whistleblowers, while strengthening the accountability of departments for implementing them effectively.
It is clear that any attempt to "gag" someone or buy their silence will not be tolerated. Staff must never be prevented from speaking out about failures and people do not expect their taxes to be spent on covering up failure. That is why all non-contractual severance payments need Treasury approval; and new Cabinet Office guidance on settlement agreements, to be issued shortly, will cover the circumstances where it's appropriate to use confidentiality clauses and the approvals required.
In August, the Public Accounts Committee published its report on whistleblowing. The Government has now published its response, agreeing with all but 1 of the committee's 8 recommendations for tightening policy. Some of these recommendations have already been implemented in departmental policies.
Measures already in place include provision of detailed guidance for civil servants about how to raise concerns and who to report them to, and stronger leadership from departments to reinforce policy on whistleblowing, with regular reporting to departmental boards on the effectiveness of whistleblowing policies.
From January 2015, there will be a requirement for departments to provide protection and support to whistleblowers, such as access to legal and counselling services, where appropriate, and to monitor their welfare. There will be clear timescales for reporting to whistleblowers how their complaints are progressing; and employees, at whatever level of the organisation, found to have victimised whistleblowers will be subject to swift and appropriate sanctions
As head of the Civil Service I take the question of whistleblowing extremely seriously, and will play a leading role in ensuring that departments follow the new guidance to the letter.
A playground morality persists in some quarters, seeing whistleblowers as snitches, renegades, somehow disloyal, who get the treatment they deserve. On the contrary, civil servants who report wrongdoing and culpable failures should be applauded for their loyalty to a wider principle of public service, and the Civil Service is committed to giving them the support they really deserve.
[Picture credits: Red whistle copyright: Jared Rodriguez / t r u t h o u t. Pink whistle copyright Cool Revolution, both from Flickr used under Creative Commons]