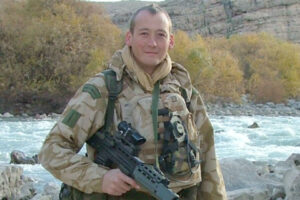 It's not often you can look back at a decision you made as an 18-year old kid and say it's one of the best things you've done in your life.
Joining the Reserves back in 1986 seemed like something I'd try for a year or 2, whilst deciding what direction my career would take. I looked around several local units before deciding which to join, but I couldn't have imagined the opportunities that would come my way as a result of becoming a Reservist.
Like all new recruits I had to learn the ropes in the early days. I went through basic training and picked up several military trades. Then I started to take part in the array of exercises that build up your experience and expose you to a myriad of different situations.
Most of my training took place in the UK, but I also travelled around Europe and as far afield as Kenya and the USA - all whilst balancing my day job and later on, my family.
The skills I learned included building bridges, using explosives and, of course, all the core soldiering stuff like firing a rifle and reading a map. I also worked closely with the Royal Marines, so I was able to add amphibious landings from Royal Navy ships and cold weather warfare training in Norway to my growing list of experiences.
The Armed Forces develop their leaders from within, so it wasn't long before promotion brought the first of a series of stripes. Leading teams and instructing across a number of subject areas helped build my confidence and leadership style. Lots of exposure to the 'people bit' really helped sharpen softer skills, such as communicating, negotiating and influencing.
Fast forward 28 years and I am still as excited about being a Reservist as the day I joined. Stepping up from Warrant Officer to Captain was an honour I never anticipated, and the commissioning course at Sandhurst remains a career highlight. This has also meant I've been able to influence people a lot more widely for the good of our reservists, and really adds to the difference I've been able to make.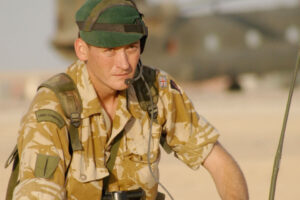 Of the work I've done, the operation in the Gulf in early 2003 stands out as an enduring memory. Taking a team of Reservists I had helped train out to Kuwait and then into Iraq, planning their part in the operation, and seeing them perform so effectively and cheerfully under such challenging conditions was something I'll always cherish.
I've given quite a lot of time to Reserves if you add it all up, but I've gained a lot in return. The Reserve Forces is a massive network of people with a wide range of backgrounds and interests, and I've made the best of friends right across the country. It's also an area where your individual contribution can make a huge difference; perhaps, for the average person, more so than in almost any other field. And having spent two thirds of my career in private industry, I've even got jobs through connections I've made in the Reserves.
My biggest single takeaway has been the breadth of perspective I've gained through the people, places and experiences that have formed my world as a Reservist. And would I do it all again? Of course!
To find out more surprising facts about the Reserves and how it would benefit you and your teams, come along to The Reserves Experience at a location near Whitehall on January 28th and 29th. Register for a ticket now.