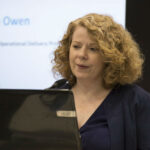 HMRC already helps millions of customers manage their tax affairs, and by the end of this year we'll be at the forefront of delivering online services that enable them to serve themselves without the need to pick up a phone or pen.
Giving our customers their own Personal Tax Account is the next big step in customer service, allowing people to access what they need online, at a time that suits them. And we're already there - one and a half million people have signed up to their Personal Tax Account** – and I want to ensure that all of us in the Civil Service have done this too. After all, we're ultimately responsible for helping millions of taxpayers, so we ought to see first-hand what this means for them (and us), and share our experiences as customers of government digital services.
We've made it much easier to get started – more than 70% of customers said they really liked it so far. It only takes five minutes or less.
There are more than 30 services you can access via your account, such as checking your income tax estimate, viewing your State Pension forecast, and applying for Marriage Allowance, with more being added all the time.
Go to www.gov.uk/personal-tax-account and see for yourself. When registering for the first-time you'll need to have ready:
your National Insurance number

either a recent payslip or your P60

a phone

number to receive your one-time security code
You're also given the option to sign in using GOV.UK Verify.
There's a useful short film on YouTube about the benefits of the Personal Tax Account. You can view this here, below or on your home computer, smartphone or tablet.
And don't just try it once – there are lots of reasons to come back. We keep adding new services to the account.
** The total number of people signed up to the Personal Tax Account reached 2 million in the first week of June.