The Chief Executive of the Civil Service, John Manzoni, launches a new film showcasing the huge range of skills, experiences and behaviours that Reservists bring back to the Civil Service.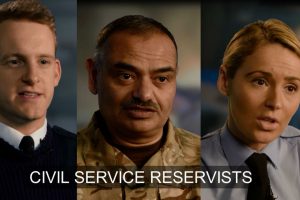 The film features civil servant Reservists and their line managers highlighting the breadth of transferable skills gained from Reserve service. These include leadership, communication, problem-solving, decision-making and teamwork. In turn, Reservists show how they take their specialist Civil Service skills, flexibility and out-of-the-box thinking into the Reserves.
John Manzoni, Chief Executive of the Civil Service, endorses the benefit of transferable skills gained by Reservists.
Reserve service offers civil servants unique professional and personal development opportunities that will help to enhance their performance, whatever sphere of the Civil Service they work in.
Lorna, a civil servant Reservist in the Home Office reinforces this in the film, saying:
I've had a wealth of experience in the Reserves, which has given me leadership qualities, presentational skills, communication, discipline and time management.
Amanda, Lorna's line manager at the Home Office, also recognises this benefit:
What Lorna brings from the Reserves definitely contributes towards her work as a civil servant. She's been consistently a top performer in her performance reviews.
Find out more
As well as being able to choose from a wide and varied range of roles in the Reserves and enjoy new and exciting challenges, civil servants receive a minimum of 15 days additional special paid leave and an attractive pay package.
You can view the film here, below or, shortly, on your departmental intranet.
To find out more about Reserves service, search 'Reserves', see the Navy, Army and RAF websites or contact your departmental Reserves Champion.