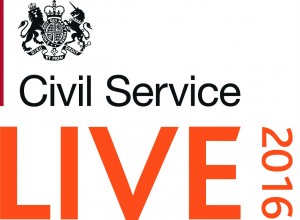 There are only three weeks until Civil Service Live 2016, and more sessions have been scheduled at each venue, so book now before they sell out.  
Over 13,000 of you have signed up to attend one of the six events in the series – but there's still time to register for the event nearest to you:
Civil Service Live is a fantastic learning opportunity for civil servants. You will hear directly from the Head of the Civil Service Jeremy Heywood, and Chief Executive of the Civil Service John Manzoni, and have the opportunity to share best practice, network with colleagues and hear the very latest thinking on key issues and challenges within the Civil Service.
Four themes
Hundreds of informative and interactive sessions are taking place, built around and illustrating best practice under four themes, the pillars that support the Civil Service we want to see:
Improved outcomes

Effective leadership

Skilled people

A great place to work
And if you've already registered but found some of the sessions you're interested in are booked out, we've arranged repeats for some of the most popular ones.
And we've added some new sessions.
But don't delay, sign up now – we expect these sessions to be snapped up quickly.
You can click on the appropriate venue below to register, view the daily agenda, and find more details about and book individual sessions at each event.
Repeat sessions
Venue
Repeat session
Time
Glasgow

The Syrian Resettlement Programme (session code IMP24)

09:30-10:15

Glasgow

Creating a fairer Scotland (IMP20)
09.40-10.25

Glasgow

Joint working: departments working together to reduce harm and improve compliance (IMP25)

16.00-16.45

Glasgow

Sharing data, changing lives (IMP2)

16.10-16.55

Sheffield  

Making data accessible: building trust with users (IMP5)

09:30-10:15

Coventry

Understanding personal resilience (SK30)

16.00-16.45

Cardiff

Systems thinking: a taster (IMP19)

09:30-10:15

Cardiff

Building world-class digital technology skills in government (SKP25)

10:45-11:30

Cardiff

Sharing data, changing lives (IMP2)

16:10-16:55

London

(Day 1)

How to develop your team (SKP24)

16.35-17.20

London (Day 2)

Innovation Challenge

2016 Finale (moved to larger room with 266 additional places)

11.20-12.35
New sessions
| | | |
| --- | --- | --- |
| Venue | New session | Time |
| Glasgow | Civil servants' showcase - an audience with Sir Jeremy Heywood (GPW18) | 12.00-12.45 |
| Glasgow | Winner of Civil Service Live 2015 Innovation Challenge (IMP9) | 16.00-16.45 |
| | | |
| Sheffield | Winner of Civil Service Live 2015 Innovation Challenge (IMP9) | 10.45-11.30 |
| | | |
| Coventry | Winner of Civil Service Live 2015 Innovation Challenge (IMP9) | 09.40-10.25 |
| Coventry | Civil servants' showcase: An audience with Sir Jeremy Heywood (GPW18) | 12.55-13.40 |
| | | |
| Cardiff | Winner of Civil Service Live 2015 Innovation Challenge (IMP9) | 10.45-11.30 |
| | | |
| London (Day 1) | Wednesday Morning Colleagues - Permanent Secretaries' weekly meeting (EFL12) | 10.00-11.00 |
| London (Day 1) | Civil servants' showcase: An audience with Sir Jeremy Heywood (GPW18) | 14.05-14.50 |
| London (Day 2) | Innovation Challenge 2016 Finale (moved to larger room with 266 additional places) | 11.20-12.35 |