"Many people can look back at their younger selves and can point to someone, or remember, perhaps a parent or teacher, a sports coach, or their first boss, and say 'that's the person who really found my passion. They're the ones who made the difference for me.'
"But if you haven't ever had someone in your life who really believes in you, who sees your potential and helps bring it to the fore, the sands of time can drain away, and your talents can remain hidden."
These were the words of the Prime Minister in a speech on 'improving life chances' on 11 January this year.
Volunteer to inspire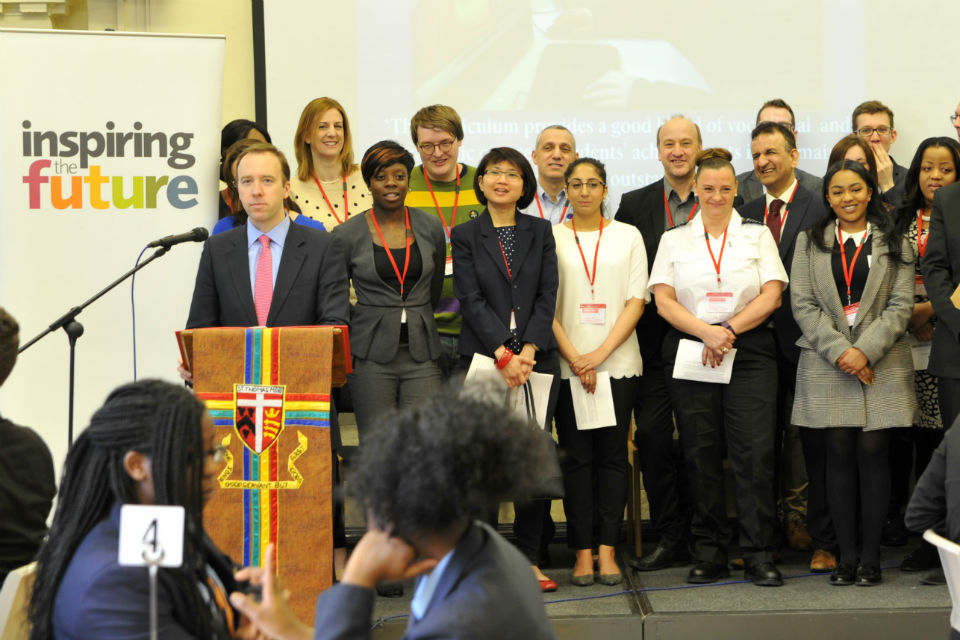 Today, The Minister for the Cabinet Office & Paymaster General Matt Hancock MP has made an announcement on increasing social mobility in the Civil Service and beyond.
In his announcement, the minister urges all civil servants to undertake at least one hour per year on volunteering in schools. This will showcase the variety of career options that are available to young people if they pursued a career in the Civil Service and encourage them to aim high and achieve their full potential.
Civil servants already do a lot of volunteering in schools, many are school governors. Some departments have partnership with organisations like Inspiring the Future, which focuses on sending professionals into schools, to showcase their work to pupils and tell their stories on how they have got to where they are.
There are other initiatives, for example through Civil Service Local, where civil servants working in court offices, Jobcentres, tax offices and even prisons, volunteer their time to go into schools to inspire future generations to aim high and reach their full potential.
There is also a pilot scheme in 20 schools in deprived areas around the country where a senior civil servant, another from the graduate Fast Stream and one from the Fast Track Apprenticeship programme provide mentoring for 14-16 year olds.
Mentoring
In February, the Minister for the Cabinet Office announced that Civil Service schools mentoring should be extended to 200 schools during the course of this Parliament. This complements the schools mentoring initiative announced by the Prime Minister in his speech on life chances. That initiative will be led by the Careers and Enterprise Company. It will arrange for 25,000 trained mentors to go into schools in deprived areas, mentoring young people and providing them with inspiration and motivation at a critical time in their lives.
So, look out for more information on how you can get involved in mentoring in schools through the Civil Service's own programme, developed by colleagues in Civil Service Resourcing, and the drive, through the Careers and Enterprise Company, to attract over 25,000 mentors from a wide range of professions and employers.
However, if all civil servants committed as little as one hour per year of their time to go into schools and talk about their careers, it could make all the difference. Not only would it help us inspire more talented young people to see the Civil Service as an attractive career option, it would also provide that extra spark of encouragement that a young person may need to see a place for themselves in the world of work and an incentive to reach their full potential.
Sign up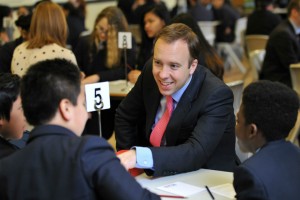 If you want to do something, getting involved is simple. Nationally, over 27,000 people have signed up with Inspiring the Future to commit an hour of their time to visit a school near where they live or work to talk to young people. They have done so using a free and secure online matchmaking portal: Inspiring the Future, and its Inspiring Women and Primary Futures campaigns.
Over 1,500 Civil Servants already volunteer with Inspiring the Future – it takes just a few minutes to sign up, and then teachers can invite you to visit. If you want to see how it all works, here is a short video. You decide what you want to do – you can chat informally to small groups of kids, answering questions about your career; give feedback on CVs or tips on interview techniques; or just explain how the subjects you studied are relevant to the job you do.
No formal training is needed. When you are talking to students, just put yourself in their shoes. Think back to when you were their age and talk about how you chose your career path and the barriers you have had to overcome along the way in reaching your goals.
For an idea of how one often-used format (Speed Networking) can work, have a look at this video of a careers networking event at the Ministry of Defence.