Ten years ago, before my first daughter was born, I'd never contemplated part-time working or even thought it was possible for a man in the Ministry of Defence. I was a Grade 7, in a fairly male environment, where part-time working was pretty unusual.
I was determined to be a hands-on dad, but was unsure what it would mean for my career, and there was virtually no advice or support back then.
My wife wanted to return to her NHS job part-time, so I approached my line manager about working 3 days a week. With some rejigging of responsibilities, he agreed.
That's when my life really changed! Caring for a toddler was occasionally frustrating, but hugely rewarding. As well as the daily routine, there was the immense satisfaction of being there for a succession of firsts – first steps, first words, first days at nursery, school… the list goes on.
Helping my daughter achieve something, however small, gave me a sense of pride unlike anything I'd felt at work. I felt very privileged to have that opportunity.
This new level of involvement not only strengthened my relationship with my daughter but with my wife. We could talk about parenting with a truly shared understanding.
Working part-time meant I had to think much harder about how I could support the team. I made sure I provided input before I finished for the week, so they could progress work before I returned to the office. I also tried to be more strategic, delegating some additional tasks and meetings; and I had to prioritise better, rather than assuming I (and the team) could do everything. I needed to strike the right balance of challenge and support. The team thrived on this new level of empowerment and it changed the way I worked – for the better.
During my wife's maternity leave with our second daughter, being at home two days a week made it immeasurably easier.
After a year or so I was looking for a new challenge. I successfully applied to lead the MOD's sustainable development team with a colleague (Kathryn Alford), who was returning from maternity leave. We both worked three days a week, overlapping on Wednesdays, which we justified to the line manager as a similar cost to employing someone at the top of the pay scale, but offering 2 brains, 6 days' resource and better business resilience.
Getting a jobshare is trickier than securing a full-time post. You have to find a job you both like and have the experience for, and then both pass the sift and interview. If you don't already have a jobshare partner, I would suggest buddying up with a few people to increase your chances. The jobshare network and events are a real help in finding partners; and the Civil-Service-wide jobshare database is a valuable resource.
We discussed with the team how to make the jobshare work best, and decided to share some tasks, allocating the rest between us. Team members reported formally to whoever they did more work for, and we had regular group discussions to ensure we weren't pulling in different directions.
Kathryn and I bounced ideas off each other and produced more rounded work than if we had been working alone. I learned a huge amount from working with someone with a different management style. We developed a (sometimes brutally) honest working relationship, challenging and supporting each other in a way I'd not experienced. We were also a much stronger agent for change as a jobshare than individually. Because we wanted colleagues to feel they could challenge us, we set out to create a closely knit team and were sure to involve them in discussions before major decisions – they joked about us arguing in front of the kids when we had a good debate!
When an opportunity arose, we successfully applied for promotion together and, a few years later we moved to the Department of Energy and Climate Change, leading on consumer and stakeholder engagement in the 'smart' electricity/gas meters programme. Flexible working was fairly common in DECC, and by encouraging staff to work flexibly when it suited them, we got a high level of commitment from the team.
I can now get the household jobs done and do the shopping when the shops are quiet, while the kids are at school, leaving plenty of time for quality family activities at the weekends. During the week, I even have some time to myself. I studied for a postgraduate qualification in sustainable business - something I doubt I could have done working full-time. I also volunteer in the kids' school, helping with reading and the girls' football team. Without two full-time salaries, we've had to economise, though when the kids were young, childcare would have swallowed a good proportion of our pay.
In the 3 jobs Kathryn and I shared over nearly 8 years, we constantly reviewed our working arrangements, in response to business needs, changing priorities and staff changes, and to keep things fresh and encourage new thinking. Most of all, we kept talking to our team about how we could help them to deliver. Working together was a constant source of energy, spurring us on.
Kathryn has temporarily left the Civil Service. Having become not only great work buddies but close friends, I worried I would never find such a compatible jobshare partner again. But using departmental part-time networks I found a fantastic new partner, Sarah Houghton, for a role leading Armed Forces and civilian diversity in the MOD.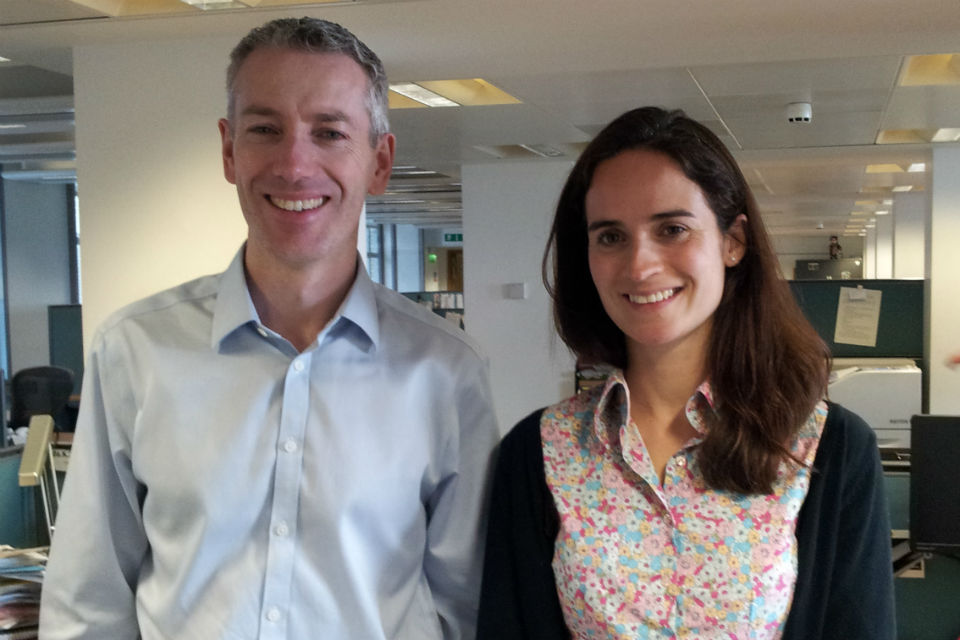 Many women I know see jobsharing as a way of having a career, while bringing up children. For me, jobsharing has allowed me to help bring up my children, while having a career. It has given me and my family an immeasurably better quality of life and improved my performance at work.
But jobsharing and flexible working also benefit the organisation, helping it to retain staff who might otherwise leave and to recruit from a wider talent pool. Having staff from a wide range of backgrounds helps the Civil Service understand the society it serves. Put simply, diverse organisations perform better.
Working part-time feels like a privilege, but it should be the norm. The new shared parental leave arrangements will help achieve this. While jobsharing is much more common than it was, including at senior grades, it will only become truly accepted across the Civil Service when lots of men are doing it.
So, to the men (and women) reading this, whatever your reasons, have you considered working part-time? It was not only the best career decision I've ever made, it changed my (and my family's) life for the better.