Last December I was proud to be included in the annual Power Part Time List. Collated by Timewise and published by the FT, the list busts the myth that part-time working is just for low-skilled or low-profile jobs. It showcases people working in influential roles while maintaining a flexible balance between work and other commitments.

I have worked in the Civil Service since 2007 and consider myself extremely fortunate to work for an employer that is so supportive of flexible working. Since joining, I have worked full-time, part-time, in 2 job shares, had 2 maternity leaves and taken a career break – all within 7 years, and all with the full support of my various line managers and the organisation itself.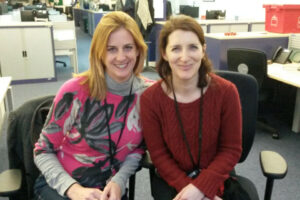 I am now working 3 days a week in a job-share partnership with Susie Owen. We manage two really interesting teams in the Cabinet Office – the Governance Strategy Team, which is responsible for overseeing good governance across departments and recruiting Non- Executives to serve on Departmental Boards; and the Diversity Strategy Team, which leads the strategy on diversity and inclusion across the Civil Service, and the implementation of the Talent Action Plan (TAP) for ensuring the best are given the opportunity to reach their potential, whoever they are.
I have the reward of working on an area I am passionate about, and believe that delivering the commitments in the TAP will make the Civil Service an even more inclusive employer and an even better place to work for everyone. The job-share partnership means we can share complex and interesting work without having to compromise on spending quality time with our families.
Job shares are not career limiting
I hope my experience, and that of others like me, will help persuade anyone considering working part-time that it doesn't mean the end of your career aspirations or even having to put them on hold. Through a job share, you can continue to work in challenging roles. Take a look at the Civil Service Jobshare pages to find out more - an online tool will soon be available to help you find someone to job-share with. We have also organised an event for those looking for SCS job share partners where they can meet others in the same position.
Recently, I spoke on a platform with women from different sectors, sharing our experiences of being a woman in the workplace. I was struck by how supportive the Civil Service is as an employer compared with some in other areas. We still have a distance to travel, but many positive policies are in place, including excellent provision for maternity leave, career breaks and a variety of flexible working options. Over the next year, as the TAP recommendations are implemented, I would expect things to improve again, and for the Civil Service to become an exemplar in supporting women as they leave and rejoin the workforce.
It's worth pointing out that, as the Head of the Civil Service Sir Jeremy Heywood says in this film on job sharing, part-time working is not only for women. I hope that as more men take parental leave and as people approach retirement, or scale down their work commitments for other reasons, they too will see part-time working and job sharing as options to consider.
Taking care of your workforce and working hard to retain talented staff make good business sense. The Civil Service recognises this. I am keen to hear about others' experiences and what more we can do to support those working part-time or wanting to explore it as an option.