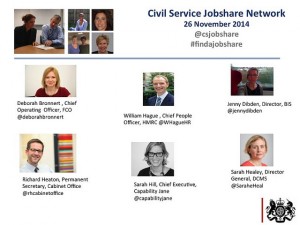 Having successfully hosted their first networking event earlier in the summer, the Jobshare Network pulled out all the stops for their follow-up event last week (26 November).
Guest speakers included an intro video from Sir Jeremy Heywood, and Q&As with Deborah Bronnert, the new Chief Operating Officer at the FCO, Richard Heaton, William Hague (Chief People Officer at HMRC rather than the other one), Sarah Healey (DCMS), Jenny Dibden (BIS) and Sarah Hill from the jobshare company, Capability Jane.
See the storify below for all the social media reaction to the speakers discussions and examples of jobsharing in the Civil Service. As William Hague pointed out, with few exceptions there's no reason why all jobs in the service can't be jobshares...
The second Civil Service Jobshare Network event took place with a strong panel of guest speakers and a chance for members to road test the new online jobshare tool. Here's the view from social media...