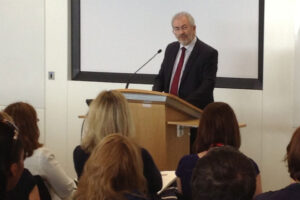 The first cross civil service job share event took place on the 11 June 2014, hosted by Sir Bob Kerslake who opened the event saying:
Job sharing within the Civil Service is something that I am extremely passionate about
Sir Bob values job shares because they give Civil Servants the chance to control their work-life balance, but still have a job with a full range of responsibilities.
He also talked about own positive experience of working with job sharers in the Department for Communities and Local Government. He reiterated how well job sharing fits with wider Civil Service reform priorities, and reinforced his and Sir Jeremy Heywood's commitment to diversity in the Civil Service.
The audience then had a chance to question Sir Bob about how Civil Service policies are impacting on job shares including recruitment and performance management. In answer to these points Sir Bob committed to commissioning work looking:
to ensure employment structures do not hinder opportunities. For job sharing for example cost of employing 1.2 people should not be a deciding factor
at recruitment policies and ensuring there are clear criteria against which recruiting managers can assess whether a job is suitable for part time or job share with the starting premise that most jobs are suitable for job sharing
at the data on the number of part time staff achieving 'outstanding' performance marking
Following Sir Bob's welcome, delegates took part in 3 breakout sessions that looked at different aspects of job sharing.
Current job sharers talked about how they make the sharing process work for them, and discussed with 2 groups how it might work for delegates. The third session was presented by a panel of current job sharers who looked at how you can further your career in a job share.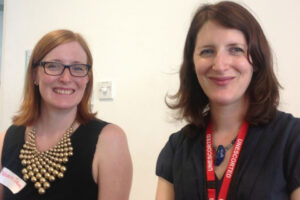 Delegates also heard from Deborah Brooks and Verity Prime about how to set up a part time and job share network in departments, and Caz Thomas updated the group on the work of the job share working group including:
the development of a job share noticeboard, due for launch by the autumn
the status of Civil Service Employee Policy's guidance on job sharing that should address many of the points raised in questions to Sir Bob about how to have a uniform approach across departments
Sue Owen then closed the event by talking about being a senior woman in the Civil Service, her own fascinating career and her strong support for flexible working.
Want to find out more? Join the LinkedIn Group and share the link with your colleagues via https://civilservice.blog.gov.uk/job-share/