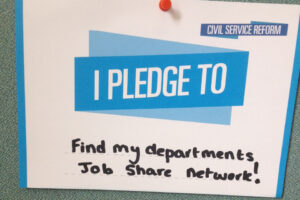 Since having my first daughter in 2008 I have been fortunate enough to work both part time and in a job share.
Both experiences have been positive in different ways, but I found the switch from being a full-on, full time employee to working more flexibly a challenge.
What helped me in this was the support I got from others working part time, which is why I'm always keen to support other people making this transition.
One of the first challenges most people face when they want to job share is actually finding someone to job share with. To solve this problem we're working on a launching a cross-Civil Service job share noticeboard, but at the time I was looking it was a matter of good luck.
This is what prompted my old job share partner Verity and I to set up the Department for Education's (DfE) Job Share Network. We wanted a way of supporting people looking for job shares as well somewhere to share ideas, provide support and act as a focal point for new partnerships.
This network worked so well that when I returned from my second maternity leave I set up a similar network in the Cabinet Office. There's not as many job share partnerships as in DfE so we have a network for those who work part time or job share as many of the issues are similar.
Our reasonably small network meets about once a quarter, and we invite partnerships or those working part time in challenging roles to speak.
An unexpected benefit of the network is that it is the public face of part-time working and job sharing in the department. It's meant our senior leaders know where to come if they need to consult or hear the view of those working part time and people who are working part time or want to have somewhere to connect.
Not only are these networks important, they're really easy to set up, and here are my 4 top tips for to get one going:
1. Just do it!
Don't over think it! All I needed to do at first was make some posters, book a room and get Internal Communications to put something on the intranet.
2. Make contact with your Diversity Champion
All departments should have one and ours has been very helpful in supporting the network. Pick their brains as much as you can and use their contacts.
3. Try to find other people to help you
As a part time worker you will probably already be overstretched, so sharing the burden will help make it fun rather than a chore. I am still working on this on my own so if anyone wants to help please email me!
4. Speak to senior leaders in your department about what you are doing
Job sharing is a fantastic way to keep great people whilst still giving them interesting work and part time workers are driven and committed. The more we can bang the drum for flexible working the better, so find ways to raise the profile of where it is working well in your own or other departments.
We think that a large number of departments already have similar networks in existence now, we'd love to hear how these are working. But if your department doesn't have one yet, I hope this will spur you on to start one.
Please do get in touch with me @deborahbrooksn3 or via @csjobshare if you want any support or advice in doing so and leave comments below or tweet me about what is happening in your department.