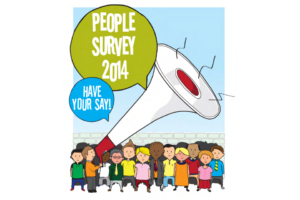 Every October we are all asked to complete the Civil Service People Survey and give feedback on our personal experiences working in the Civil Service. I have already completed mine this year and I want to thank the other 210,000 of you who have done the same. I appreciate it takes time and we are all busy so I wanted to assure you that the People Survey is still an incredibly important tool for improving our Civil Service and, more importantly, helping you work better.
We are one of the largest organisations in the country, with pockets of good and bad practice, so we must learn from each other. The survey is one of the few ways we can objectively compare, on the basis of concrete data, how things are going across departments and agencies with a diverse range of functions and roles: JobCentre advisers, the Border Force, prison officers, coastguards, policy makers. We all have very different roles, but there are common challenges such as leadership, improving skills, pay and reward, work-life balance, performance management, bullying and so onwhere we can all share learning.
For example, the Department for Work and Pensions's "DWP Story" has played an integral role in the improvements in DWP's leadership and managing change scores (up an amazing 17 percentage points from 2011 to 2013); and now HMRC are adopting a similar approach as part of their 'Building our Future' initiative.
The People Survey also allows us to focus on our own team's behaviour. Last year we provided scores for 8,500 individual teams. We often talk of the importance of challenging each other or saying when things could be done better and I appreciate that this isn't easy for everyone. But the survey allows people to be very honest. Looking at our own teams' scores can help us see where things are working and where things need improvement. The survey provides us with an opportunity to talk within our teams and understand how we can work more effectively and better support each other.
The tool can sometimes confront us with some tough messages as leaders and managers, but without honest challenge we will never improve our ways of working. It may sound like a cliché but if you don't complete the survey you will miss out on the chance to help shape change. The survey's main objective is to make us work better, and it can only do that if everyone participates.
So for those of you who haven't yet been able to complete the survey I want to encourage you to take part and have your say. It takes no more than 20 minutes. Check your local intranet or ask your manager about how to take part in your department or agency. I promise on behalf of the Civil Service Board that we will do out utmost to act on the results!