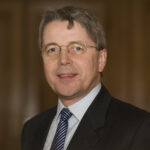 I am delighted that in my first week as Head of the Civil Service we are publishing the Civil Service Talent Action Plan which confirms our aspiration to be one of the most meritocratic, open and fair organisations in the country, fully reflective of the society we serve. I know I speak for all my Permanent Secretary colleagues in saying that this is one of the most important documents and policies we have published in the Civil Service in recent years.
A great deal has been done over the last decade to enhance the diversity of the Civil Service.  More than half of you reading this email are women, nearly 10% are from a minority ethnic background and over 8% of you have told us you have a disability.  I have seen for myself some of the fantastic work underway to identify and develop talented staff from minority backgrounds to help them succeed in the Civil Service.
Take the Minority Ethnic Talent Association (META) scheme, which develops some of the most talented staff from black and minority ethnic (BME) backgrounds with the aim of helping them to reach the Senior Civil Service (SCS).  I have mentored one participant for several years, coaching and supporting her to achieve her goals. I am confident that many of the META participants and graduates are Civil Service leaders of the future.
 
At the most senior level across the Civil Service women are responsible for the justice system, tax collection and overseeing the NHS - to name just a few.  Throughout the Civil Service, women are taking on some of the most challenging jobs – from leading major operational organisations, running our professions, and advising the Prime Minister. Many of my own closest advisers are women, including the Head of the Cabinet Office's Economic and Domestic Secretariat, the Head of Propriety and Ethics and the Head of my Private Office. These are all key jobs at the heart of the Cabinet Office.
I am proud that the Civil Service has been recognised and celebrated by many outside organisations for our achievements. Stonewall rated 10 Civil Service organisations in their latest employee equality index, with the Home Office coming 5th. We had 4 organisations shortlisted in the Race for Opportunity Awards, including HMRC for Developing BME Talent. And we had 10 organisations nominated in the Gender Opportunity Now awards. This shows that the Civil Service really is making progress.
 
But we know we have more to do if the Civil Service is to be a top performing organisation in this key area. The first independent report we received as we were putting the overall plan together - from Hay Consulting - focused on gender issues in the Civil Service. This had some really challenging observations about the barriers that women working in the Civil Service believe are stopping them from achieving their full potential. It is an important report and one we need to take seriously. Our next steps will be to conduct research into the experiences of those who declare disabilities, those who are from a minority-ethnic background, and those who are lesbian, gay, bisexual or transgender. This Plan is not designed to sit on a shelf.  We start implementing it from today, and will regularly update it as new data and research comes to light.
As a first step the plan we are publishing today sets out some concrete and practical actions the Civil Service can take - for example the introduction of leading-edge terms and conditions for shared parental leave and ending, except by exception, all male interview panels.
The Civil Service needs to ensure that it is attracting and retaining the most talented individuals from all walks of life.  I want to see all of our hard-working, committed and talented staff succeeding, removing any actual, perceived or unconscious barriers that currently prevent this despite all the good intentions.
There is always a danger that those of us in leadership roles are drawn to people who look like us, think like us and come from backgrounds similar to ours – and this can often inhibit interview panels or progress within a workplace. There are simple ways we can start to tackle this, even through recognising when our biases are holding back our own potential.  We can all take action to address this and Civil Service Learning has some excellent unconscious bias training that can help us personally tackle some of the underlying reasons that can become a barrier to creating fair and open work environments.
The Talent Action Plan sets out the action we'll be taking to make sure our diverse talent can succeed across the Civil Service, from extending our Apprenticeship Scheme to encouraging greater take up of shared parental leave; from ensuring all leaders of the Civil Service are mentoring staff from under-represented groups to making diversity and inclusion part of any formal induction process.  Right across the Civil Service, whatever your role and whatever your grade, you can get involved and make a difference to the Civil Service.  Above all Permanent Secretaries and other leaders are committed to giving a strong lead in creating a culture where anyone is able to flourish.
Simon Fraser, Permanent Secretary of the Foreign & Commonwealth Office, will lead on the issues for the Civil Service Board and has played a key role over recent weeks in helping to put this plan in place under Bob Kerslake's leadership.
I know there are plenty of inspirational stories out there where we are really succeeding in delivering a more open and fair Civil Service and we need to share them so we can learn from each other and duplicate best practice. The upcoming Civil Service Diversity and Equality Awards are one way in which we can celebrate our most exceptional achievements.
This plan will continue to evolve as we implement it, but for that to happen we need your input. Please use the comment section to share success or let us know if we are missing anything.
Updates
9 September: Sir Simon Fraser, Permanent Secretary of the Foreign & Commonwealth Office and Civil Service Diversity Champion, replied to some of your comments - read his reply
16 September: Oliver Robbins, Director General Civil Service, replied to some of the comments below - read his reply