In March the Chancellor and Chief Secretary praised the Civil Service for delivering major savings during this Parliament and asked the Minister for the Cabinet Office to consider what further savings we could make in the future.
As, respectively, Head of the Civil Service and Chief Executive, we have been working hard with the Minister for Cabinet Office, the Treasury and colleagues across government to plan how the Civil Service can work even more efficiently in the future and still deliver world class public services.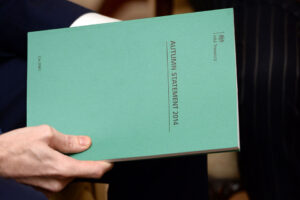 It is worth reflecting on how far the Civil Service has already come in recent years - more services are being delivered digitally, we are smaller than we have been since the Second World War while delivering more than ever before, and we are up-skilling our staff so we are capable of meeting the challenges ahead.
The report that the Government published today set out its strategy for the next Parliament. But what does the Autumn Statement mean for us as a Civil Service overall? We will need to deliver an additional £15-20bn over the next 5 years. This is a big number which is difficult to relate to, but we will all have a part in delivering it. So what does this mean in practice?
A continual focus on getting value for money - we need to enhance commercial skills across the board in the Civil Service so that we can leverage our scale and our scope with suppliers. Skill levels need to be increased at all grades, from experts to those of you who make occasional commercial decisions, and there will be continued efforts to support you in getting the required learning. Our commercial models need new and innovative structures that allow us to tackle the tough decisions we face in the future. But above all it means each and everyone of us needs to keep a simple focus on cutting costs, identifying waste and looking out for the taxpayers' interests just as we would our own.
More digital services - we want government to be as good as the private sector with the digital services it provides. A cross-government approach will allow us to reduce costs and make interacting with our services a better experience for the public. Over time it should also mean better IT kit in the office so we can all do our jobs more effectively. As well as modern IT we need modern skills so that we can work smarter, more flexibly and effectively.
More collaboration – greater cross-government collaboration is needed, both between departments and between departments and the centre, in order to create joined-up solutions to challenges faced.
Reducing Fraud, Error & Debt – great progress has been made in this area already, but we need to continue in our efforts to reduce fraud, error and debt across government.
Better working environments - our property strategy means we will reduce the amount of office space we currently occupy. We will have more shared office spaces that meet the needs of a modern workforce. This will let us share more resources and build a more unified Civil Service.
Better leadership and a more innovative culture - achieving these goals will require effort from us all. To implement these changes we need our leaders at all levels to work closely with their teams and start to consider how things can be done better. We need leaders that will listen and let their teams try new things, challenge the status quo and learn from mistakes made. We will be launching our Leadership Statement shortly which will enable us to really consider how our leaders can become better at guiding the Civil Service.
We know that the Civil Service is up to the task – since 2010 you have already helped to save £14.3 billion through efficiencies and reforms. By improving the skills of civil servants in key areas, we are in a stronger position than four years ago to continue the programme of reform - but it won't be easy.
The prize is a Civil Service that is even better to work for, that attracts and rewards excellence everywhere, provides clear paths to progress for all its people, and creates a highly skilled, modern workforce that is free to innovate, confident in its abilities and in the conviction that it is providing the best, most cost-efficient public services it can.