Things are changing in the Civil Service. The changes might be hard to see from outside - you won't have heard about them on the news - but they are happening. And the pace of change is accelerating.
Government is adopting new ideas and new ways of working to make everything we do better for users, and more efficient. Technology and the internet in particular, are the driving forces. Many in the world of business understood this and adapted to it years ago. The Civil Service lagged behind. Now we are changing that.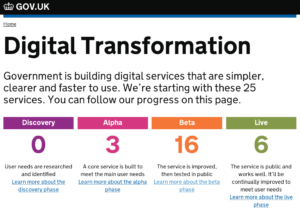 And we all have to change – this is not something that is just affecting government. Global companies, start-ups and the wide range of small to medium businesses that make up the backbone of the British economy are addressing similar challenges across their businesses. This morning for example a group of digital leaders and permanent secretaries shared our experience with Meg Whitman and her top team at HP. The discussion indicated just how significant this agenda is and also – in my view – the good progress we have already made.
If you have not seen it before, take a look at the Transformation page on GOV.UK. It is called that for good reason. It shows how some of the biggest services the Civil Service runs are being transformed for the digital age. Services that let you register to vote, apply for Carer's Allowance, renew a patent, or book a prison visit - these are among the 6 services that have completed the transformation process and are now live.
Many more are in what is known as beta phase. That means they are working services, but not yet ready to replace their predecessors that are either completely non-digital, or in some cases digital but not built in a user-centric way.
We have established a clear standard that all transformed services have to meet: the Digital by Default Service Standard.
To help civil service teams meet the standard, there's an online guide, the service manual. It's a summary of everything you need to know to design and manage a modern digital service. Like the services themselves, the manual is a living thing - it gets updated and changed as time goes on, and as we learn from our mistakes.
We do not want to continue running government as a series of disjointed silos. A key element of our Civil Service Reform programme has been to create a more unified, efficient service.
Instead, we are increasingly focusing on an idea called "Government as a platform".
That means we build technology that is more open and more interconnected. If one department needs a service for publishing information to the web, so will other departments - so why should they all pay money to different people to achieve the same end? Why not just build a publishing platform they can all use and share?
That's what GOV.UK is. It is not just a website, it's a platform.
We are building other platforms too. The Performance Platform captures data about how digital services doing. The GOV.UK Verify platform provides people with a way to prove who they are online, so they can use government services safely.
A huge amount of work has been done already, but we have just scratched the surface of what's possible. Government collects huge quantities of data - if we open up that data via platforms and Application Programming Interfaces, external developers in the public and private sectors will be able to make imaginative use of it. New services will emerge – bespoke, personalised services government couldn't normally justify spending money on, especially in a tight budgetary environment or services no-one else has even thought of before.
At the heart of all this change are the users: people who need to use government services, from the trivial to the life-changing. All these services, all the platforms, everything we build from now on should be focused on meeting user needs.
I believe that thanks to the excellent work of the Government Digital Service and the increasing digital capability within each individual department, the British Civil Service is already at the cutting edge of applying digital technology to public service delivery. But we now need to take this to the next level, and apply the same principles and techniques in policy design. All of which explains why I am so pleased to have taken up the role of Head of the Civil Service. Change is good, change is exciting, and change is happening right now. I cannot wait to see what's next.