In the Talent Action Plan we committed to developing a comprehensive approach to leadership in the Civil Service. Today Civil Service Group is launching the consultation process and I would encourage you all to engage with this. We want to hear what you have to say.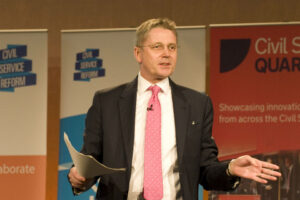 The commitment to a comprehensive approach to leadership responds directly to the voice of civil servants who have made it clear that elements of our culture need to change, whilst also recognising the need to build on those aspects of our culture and leadership that are rightly valued. The leadership strategy will include a single, clear leadership statement that makes explicit what we expect of all Civil Service leaders and how we will hold leaders to account. Such a statement needs to be based on a shared vision bringing in thoughts and ideas from people across the Service. I would like to start this conversation today.
Building on what has already been learnt from last year's People Survey, the workshops on Civil Service 21 and reviews of wider evidence, we are working to test out the key themes that have emerged. These include:
having the courage to challenge others, speaking 'truth to power'–and welcoming challenge oneself;
encouraging innovation and fresh thinking rather than minimising risk and maintaining the status quo;
empowering people to deliver outcomes within a clearly defined 'space to operate';
showing rather than hiding a real passion for public service and the values of the Civil Service;
collaborating with colleagues across departmental boundaries rather than competing or protecting silos;
being more open, including to ideas from outside;
valuing differences and avoiding "group think" or unconscious bias;
caring more about nurturing and developing talent and potential; and
caring less about grade.
Over the next fortnight, I would encourage as many of you as possible to share your views on the key themes identified above. In particular, it would be helpful to have your comments on the following:
are the themes outlined above, those which need to be addressed in a leadership statement?
are there other themes which should be added or existing ones removed?
what would you regard as the most important characteristic of Civil Service leaders?
If you have any other thoughts about the leadership strategy, please feel free to comment below or send them directly to the Leadership Strategy Team: CSLeadership@cabinet-office.gsi.gov.uk
All of your comments will be analysed and tested out further with representative groups of Civil Servants in focus groups and workshops. Findings will then be used to inform the content of the statement and supporting implementation plan. I expect the statement and implementation plan to be launched in November.