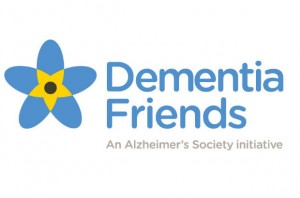 I first heard about Dementia Friends after my line manager had taken part in an awareness course at work.
He was enthusiastic about it, after all dementia is something which could affect any of us or our loved ones as the population ages, and he encouraged me to go to the next course.
In August 2013 I was involved in organising a health and wellbeing day at the Department of Health. During that, at the Dementia Friends session, we were asked to make a pledge, and mine was to use opportunities to pass on what I had learned.
One of the most interesting times where I was able to help was at this year's Tour de France. Dementia Friends pledged to make Le Grand Depart in Yorkshire dementia friendly by collecting people's sporting memories. This took place in partnership with the Sporting Memories Network who had set up a series of hubs along the route in Yorkshire.
I work in Quarry House, Leeds, but I live in Otley. It's a small market town north west of Leeds and one of the first places on the route as well as one of Sporting Memories' hubs.
This was a great opportunity to use my Dementia Friends skills to play an active part in such a major event rather than being a mere spectator.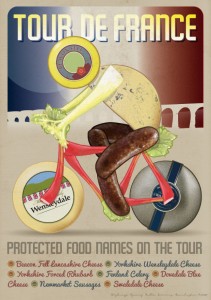 Saturday 5 July 2014 was a wonderful day. The sun shone and there was a real party atmosphere which lasted all day. Even though Peloton passed through at around midday and was gone in a matter of seconds, people had come for far and wide to see the Tour.
It was after the cyclists had gone that things got really busy at the Otley hub.
Despite the fact our stand was a bit out of the way from the main action, there was quite a bit of interest from people passing by.
I had some really interesting chats with lots of folk, including a Policeman, who were more than happy to share sporting memories that meant a lot to them. We wrote or recorded their memories, along with testimonies about their personal experiences of dementia.
These memories are later used by the Sporting Memories network to help provide stimulation for dementia sufferers.
One of the most interesting memories came from an Australian gentleman who had met Sir Chris Hoy at the Olympics in Sydney.
Things quietened off at around 4pm, when most people had settled in the town square to watch on the big screen.
I was exhausted at the end, but I felt it was a very rewarding experience at an amazing event.
Collecting memories and giving out information on the stand really helped in making this event as accessible as possible to people who are living with dementia and served to help promote this good cause.
You can become a Dementia Friend by watching two short videos on Civil Service Learning. If you're not a civil servant you can find further information here.
[Picture of yellow bike copyright: Alison Benbow from Flickr used under Creative Commons]