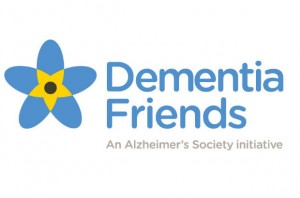 I decided to become a dementia friend for 2 reasons: professional and personal. I currently help to run a programme to encourage volunteering within my HM Treasury and agreed to publicise Dementia Friends through this.
I thought it would therefore be good idea to see what it was about and understand what it meant to become a dementia friend. However, I think a larger part of what drove me was my own interest in learning more about dementia following the passing of my Grandma 2 years ago after living with Alzheimer's for close to 10 years.
As I think most people will own up to, even though someone close to me has had dementia, I didn't know much about it and would not event have been able to explain what dementia really was or how to approach it.
I found the information course to become a dementia friend offered this introduction perfectly, striking the right balance between giving you the facts and helping you to understand what living with dementia can feel like.
It helps to get rid of unhelpful preconceptions and provides you with simple and useful ways on how to approach those with dementia. I now use this information everyday through how I refer to dementia and feel that it has made me more comfortable and confident in talking to my elderly relatives living with dementia.
I am fully behind this campaign and have used my role to encourage colleagues to sign up and will continue to do so to help reach the target of 1 million dementia friends by 2015!
You can become a Dementia Friend by watching two short videos on Civil Service Learning.
If you are not a civil servant you can find further information here.