It is a sobering thought that, based on current figures, more than 1 in 10 of us will suffer from dementia during our lives.
In the Civil Service, that means up to 50,000 of our colleagues across the country will develop or already have the condition. And it's going to get worse - over the next 30 years, the number of people in the UK with Alzheimer's and other dementia-related conditions - currently 835,000 - is expected to double.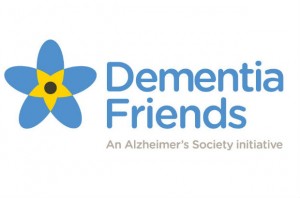 Unsurprisingly, given the scale of the problem, many of us - around 1 in 3 - have a close relative or friend with dementia and experience at first hand the impact it can have on their lives and their families. At the moment, the causes are uncertain and there is no cure.
There is a role, of course, for government in doing the big things - funding and facilitating research and improving the care of those who live with dementia in the health service, which initiatives like the Prime Minister's Challenge on Dementia are addressing. But it is clear that the need to understand what dementia means for those who live with it is greater than ever. Learning how to handle and help people with these conditions - doing the little things that will make their lives easier - is something we can all get involved in. This is underlined when we learn that, according the Alzheimer's Society, two-thirds of all people with dementia are cared for in the community.
I recently became a Dementia Friend, taking the awareness session training to understand more about the condition and find out how I could help. But I am very far from the first civil servant to do this. Civil servants are some of the most enthusiastic volunteers and supporters of charities of any group in society, giving up your time for any number of good causes - a fact recognised by the new Volunteering Award  at the recent Civil Service Awards. I'm proud to say that, since the initiative was launched, around 10,000 civil servants have become Dementia Friends - you may have read about the experiences of some of them in this very blog. This month, the whole Cabinet joined them as trained Dementia Friends.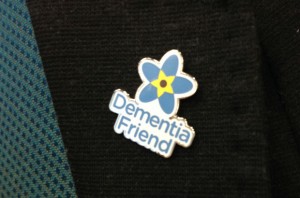 Becoming a Dementia Friend, you learn that the condition is not a natural part of ageing but the consequence of a disease of the brain. It is completely indiscriminate and, contrary to popular belief, doesn't just affect the over 65s.
Dementia is about losing the connections that make sense of everyday life, from forgetting the names of familiar objects and being unable to recall things you've heard, seen or read, to - in severe cases - the tragic loss of recognition of even those closest to you.
Awareness will help us spot the signs, and then it is about showing consideration, patience and assisting in small practical ways that will make dementia sufferers lives just a bit easier. Whether that's helping someone find what they need in a shop, volunteering your time to keep dementia sufferers physically, mentally and socially active, or as civil servants in contact with the public being confident that we can deal sensitively with people who have the condition.
If you haven't already, become a Dementia Friend. There are over 600,000 of us in the UK, with a target of 1 million by 2015. We can help those with dementia make the connections they've lost that enable them to function and retain their independence for as long as possible. One day we may need Dementia Friends ourselves.