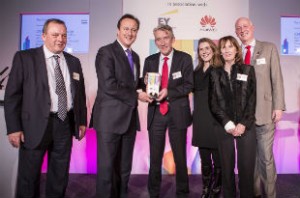 The Civil Service Awards celebrate and promote excellence across government. They are an opportunity to reward and thank civil servants for outstanding achievements, but being good isn't good enough. You've got to write a killer nomination to capture the judge's eye.
Last year a number of teams across government, including No10, Cabinet Office, the Department for Business, Innovation and Skills, the Foreign and Commonwealth Office, UK Trade & Investment, VisitBritain and the British Council, won the Growth Award for their work on the GREAT Britain campaign.
Conrad Bird, Director of the campaign at No10, shares his top tips for writing a winning nomination:
Conrad's nomination writing tips
Don't be afraid to sell yourself!
The judges are looking for clear examples of how you meet the eligibility criteria – don't make it hard for them!
Don't assume those judging nominations know anything about your project.
Outline what you did, why you did it, what the result was and what the wider impact has been. Evaluate the outcomes as precisely as possible.
Ensure your nomination is as well written as possible.
While nominations won't be marked down for writing style, a clear, well-expressed nomination form is much easier to read and judge.
Triple check you are nominating for the right category.
Read the specific criteria carefully and make sure you can prove that the project meets each of them. Unfortunately once your nomination has been submitted it won't be transferred to a different category.
Demonstrate how your success can be adopted by other programmes, teams and departments.
Judges like to see the potential for the project to be rolled out across government.
Support your achievements with data and statistics.
For instance if the project led to efficiency savings within a department, shout about the facts and figures!
Highlight what you have done differently.
The judges are excited to hear about innovative projects and new approaches so don't be afraid to emphasise how you've challenged the status quo.
Ask a colleague to proof-read your nomination form.
You will have undoubtedly looked at it over and over again so it may take a fresh pair of eyes to spot any small mistakes.
Make sure there is a Senior Civil Servant who would be happy to sign off your nomination.
Without this your submission will not be valid.  Ask your SCS to read your nomination form as they may have some good advice.
Stick to the word limit!
The judges will not read anything that goes beyond the specified word count, so make sure your nomination is concise.
Good luck!
[Photo of Conrad Bird and the campaign team receiving the Growth Award on Flickr. Copyright Civil Service World Events]