Thank you all very much for your interesting contributions to the consultation on leadership in Jeremy's blog a few weeks ago.
I am sure that our Civil Service-wide consultation will result in the production of a Leadership Statement that is ambitious, challenging and unique to the Civil Service.  The team will take all comments posted to date and assess them alongside the responses that they have received through other digital channels and the many face to face discussions that have taken place with Civil Servants across the UK.
The findings of this assessment will be used to draft the Leadership Statement which will be launched in the next few weeks. If you have any burning thoughts which you would like considered, please email the Leadership Team direct.
Today though, I wanted to tell you about my experience of leadership in the Ministry of Defence (MoD).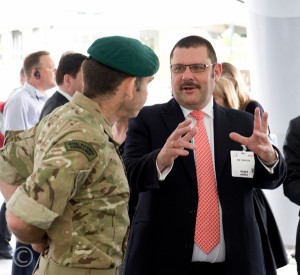 When I was appointed as Permanent Secretary of the MoD one of my personal priorities was to try and improve the quality of leadership in defence. It seems to me that one of the critical roles of the Senior Civil Service (SCS) is to lead and the annual staff survey was stark in assessing our ability to lead, listen and communicate the change needed in defence. Over the last two plus years we've been on a fantastic journey, investing time and resources into improving all our leaders, not just those on particular development schemes.
Initially we worked in small groups on what leadership meant for all the SCS.  Over 200 SCS colleagues participated and we developed the "Seven Part Leadership Offer". Everyone, including me, received the same offer to develop themselves as leaders. That included secondments to partner organisations, being mentored, structured learning and development and personal coaching. Take up was incredible, for example, everyone did 360 and had structured feedback from a third party coach. We've been meeting as an SCS cadre every six months for a day on leadership to continue to reinforce how important this issue is for us as a team. These events have pre-work, including seminars or on line questionnaires, that feed into the day with follow up for people afterwards. For me, there have been very powerful days on inclusion, led by Dr Binna Kandola, and resilience, led by John McCarthy.  Exploring the different aspects of leadership has been really excellent in creating both a team ethos for the SCS and a sense of real momentum on a business critical issue.
With this momentum colleagues have taken the lead in a range of related areas.  For example all the SCS taking on mentoring of other leaders early in their career, or the local SCS link to defence sites all over the country. We've now begun to roll out an offer for Band Bs (Grade 6 and 7). We are five conferences into a series of ten, given there are 2,000 colleagues in this level of leadership and every one has a different leadership flavour.  We've developed a leadership offer for these leaders and all other grades. Take up has been impressive.
In the end it is my view that single great leaders don't deliver, it's improving all leaders and creating a team, with purpose, that delivers sustained organisational change, improvements in efficiency, implements policy and, critically, leads all colleagues in an inclusive way.  We remain on a journey, I personally love it and am relentless in doing so, and I hope you are too.