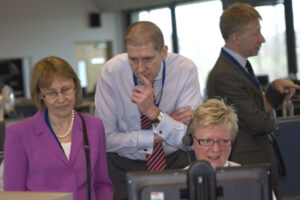 I was reading a newspaper article last week that said the Civil Service was a poor employer and that sickness absence was rife. This took me by surprise, as it is certainly not my experience. So, I dug out the cross-Civil Service sickness absence numbers and they paint quite a different picture. As Chair of the Civil Service Board's new "People Board", I thought it was only right to present our side of the story, which is backed up by detailed department reports and polling of hundreds of thousands of staff in the People Survey.
Sickness absence, as measured by the number of average working days lost per person, is at its lowest recorded level, standing at 6.3 days in the Civil Service – down from 7.9 days in 2009. This is lower than the wider public sector (7.9) but still a bit higher than the private sector (5.5). A number of departments already have lower absence rates than the private sector but our aim is to ensure that all departments do just as well. If we achieve this, it would save £40 million a year for the taxpayer.
The progress the Civil Service has made shows that our efforts to promote health and wellbeing at work are bearing fruit.
In HMRC, my own department, we haven't done quite as well as others, but we've still made fantastic progress. Sickness absence has fallen steadily since 2010 from 10.5 average working days lost (AWDL) to 7.4 in 2014. This fall is a result of really good personal leadership from folk at all levels in our organisation, whether this has been a healthy eating class or finding better ways to tackle stress at local levels. Their efforts have been backed up by two strands of department-wide activity: simplifying sickness absence procedures, including training for all managers, and, most importantly, promoting health and wellbeing. An example which struck me recently is our work with Macmillan Cancer Care to support managers in helping their people with cancer or who are affected by it. HMRC also has an occupational health model that provides quick and effective support for managers in enabling staff to return to work as soon as possible.
Permanent Secretaries have taken a number of steps to improve sickness absence figures across the Civil Service. Strategies include signing up to public health responsibility deals, equipping managers to be actively conscious of wellbeing issues, reducing mental health stigma in the workplace, providing health kiosks in the workplace and promoting better physical health. There is a range of responses to tackling stress, including training courses, but this work is increasingly more proactive and focussed on promoting resilience well before stress becomes overwhelming.
The Civil Service is one of the leading organisations in terms of the expectations it places on its staff, support for learning and development and involvement in the workplace. All three of these measures have been shown to reduce sickness absence rates. We can't deliver for our customers and the UK, without doing everything we can to support our own people. I know that HMRC, like every government department, will continue to prioritise the health and wellbeing of the people who work here. Doing that benefits everyone, as levels of sickness absence continue to fall and performance improves. It's a crucial part of ensuring we are a great employer.