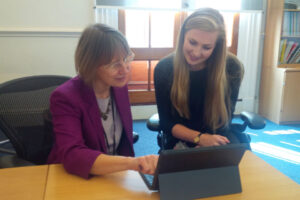 On Thursday, I had the opportunity to talk at the Civil Service Fast Track Apprenticeship Scheme Cohort 2 induction event. The Civil Service Fast Track Apprenticeship scheme was set up last year and aims to attract the best and most talented school leavers, offering them the chance to kick-start their career, as a real alternative to university. Through this scheme apprentices join a range of different departments and have full time roles whilst studying for both NVQ and HNC qualifications. They are encouraged to develop a diverse range of skills and competencies and once successful with their studies will then be able to apply for graduate career opportunities.
I spoke to the new cohort of apprentices about Civil Service Capabilities and Civil Service Reform. I welcomed them onto the scheme and congratulated them for getting through the rigorous selection process. They join the Civil Service at an exciting time. A time when it must continuously adapt and evolve; and apprenticeship schemes such as this offer the Civil Service new skills relevant in today's world, from digital and information technology to new leadership and management skills. Apprentices are one way that we can positively transform the Civil Service into a more diverse place to work and allow us to develop the capabilities needed to help the government deliver. The scheme is also a great example of how quickly the Civil Service can implement change successfully – two years ago this scheme didn't even exist and these kinds of jobs would have been more or less unattainable for those apprentices that I met.
I have the benefit of having two apprentices from Cohort One of the scheme currently working in my private office team, Olivia (Deyt-Aysage) and Dominic (Woodward-Lebihan). It has been great for me to see first hand how much Olivia and Dominic are enjoying being apprentices and the opportunities the scheme is affording them, and so I asked them to come with me to the event and Olivia to pen the second half of the blog!
So, it was great to go along with Lin to the induction event and be reminded that that was me only a year ago. Dom and I are both relishing our roles in HMRC and are incredibly enthusiastic about both the scheme and working in the Civil Service. University was an option for us both, but we decided that the opportunities inherent in the scheme outweighed the merits of getting a degree. Examples of the diverse challenges in our current roles, supporting both the Chief Executive and the Lead Non-Executive Director, can include liaising with ministers' offices and foreign embassies, helping the HMRC Executive Team to modernise with greater use of technology or even drafting a blog for the Cabinet Secretary's page!

It was great to hear from the Deputy Prime Minister, Nick Clegg, as well as the Minister for the Cabinet Office, Francis Maude, and also two apprentices from the first cohort who shared with us their experiences of the past year and their passion for the scheme. Nick Clegg welcomed the apprentices and congratulated them for choosing a "noble calling". He encouraged them to challenge the way Westminster works today and continue to set an example for future apprentices. Lin, in her speech, emphasised that all Civil Servants should challenge the way we work today and be sure to ask those difficult "why" questions in order for the Civil Service to continuously improve and transform. The new cohort certainly seemed to have taken this message on board already, asking the Deputy Prime Minister why he had not kept his manifesto commitment on tuition fees – a policy decision that had a direct impact on those in the room and their choices. He answered the challenge directly and openly. So, back to Lin!
It is clear to me that Olivia, Dom and all of the apprentices have big ideas and will bring a new energy to the Civil Service. They are bright, enthusiastic and keen to learn, but will need our help and support in their careers and value all of us taking the time to talk to them about our own experiences. It has certainly been valuable to me and my private office to have Olivia and Dom working alongside us and I know they are learning a lot as well as teaching us new things. This kind of knowledge transfer is key in ensuring that the Civil Service remains a great place to work with relevant, future focussed career paths whilst also valuing the corporate memory and experience of those of us who actually remember the 1990s (and earlier!)!