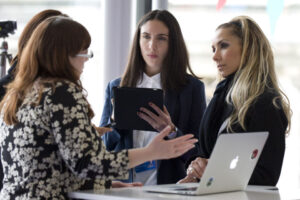 We recently published the Talent Action Plan for the Civil Service, setting out this Government's aim to recruit and retain the most talented individuals, regardless of background.
The Government Legal Service (GLS) plays a critical role in supporting this aim. One of the attractions of the GLS – apart from the exceptional interest and variety of the legal work we do – is that we respect our lawyers' entitlement to a healthy work/life balance and can offer more opportunities for flexible working, job sharing and home working than many other legal employers. We also take a lot of effort to help our lawyers - including those returning from maternity leave or career breaks - plan their careers and make the most of their talents and potential. These are some of the reasons why the GLS is a relatively diverse organisation.
Nearly two-thirds (62%) of Treasury Solicitor's Department (TSoL) staff – incorporating most government legal teams – are women. Crucially, there are equal numbers of men and women in the Senior Civil Service (SCS), including at the most senior levels (pay bands 2 and 3). In addition, 10% of our SCS staff declare an ethnic minority background.
In the wider GLS, comprising about 2000 lawyers in TSol and other legal teams, 49% of the SCS, and the same percentage of those at pay bands 2 and 3, are women.
This compares favourably to the figures for the whole Civil Service, where 37.7% of SCS are women and around 3.8% declare an ethnic minority background and is streets ahead of many private sector organisations: just 18.6 per cent of partners across the UK's top 20 law firms are women according to an article in the Financial Times.
Of course the GLS is not the only government employer to take diversity and equality seriously. Right across the Civil Service this is a top priority for all Permanent Secretaries. Take the Foreign and Commonwealth Office for example. Last week there was a great article The Independent about the FCO's new chief operating officer, Deborah Bronnart. Deborah highlights that job-sharing is a useful tool to retain talented people who have the potential to make it to the highest reaches of the Civil Service.
Of course we cannot afford to be complacent and in line with the recommendations set out in the Talent Action Plan we are taking steps to improve further the ways in which we co-ordinate and monitor our processes for recruitment, progression and talent management. The development of a more unified shared legal service for government within TSol is already helping with this. On a broader front, we are actively involved in a number of projects with other organisations like the Social Mobility Foundation and Windsor Fellowship to offer development opportunities to students.