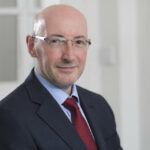 Jim Harra
In October 2019, Jim Harra was appointed interim Chief Executive of HMRC, following the departure of Sir Jon Thompson.
Jim took up the post of HMRC's Second Permanent Secretary and Deputy Chief Executive on 1 January 2018. He continues as Tax Assurance Commissioner.
Previously, he was Director General for Customer Strategy & Tax Design, HMRC.
Jim is also LGBT+ Champion at HMRC.
Jim Harra, Second Permanent Secretary at HM Revenue & Customs, talks about his continuing role as LGBT+ champion at HMRC.
Jim Harra, lead for the Skilled People theme at Civil Service Live 2017, celebrates the commitment to learning he saw at this year's events.
Jim Harra, HMRC's Champion for lesbian, gay, bisexual and transgender (LGB&T) staff and customers, looks at the strides his department is making supporting diversity.