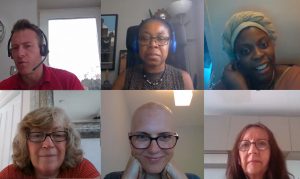 How to embed empathy into everything we do
We are the Me We Empathy community, we work across HMRC to embed empathy into all of the work we do, to put people before process and build an inclusive culture. Our 10 week programme gives teams the tools to do just this.
2020 is the Civil Service Year of Inclusion, where we celebrate all of the work being done in this space. Inclusion is about having a sense of belonging, being able to be your authentic self and feeling you have a voice. Empathy is a key part of this, creating greater understanding and resulting in people feeling listened to and valued. As part of National Inclusion Week, we want to help spread the importance of empathy in the workplace and in government.
In order to maximise on our ability to empathise, we simply need to master the right skills.
It's about understanding another person's experience, perspective and needs so we can work together to make better decisions for our customers by:
Surfacing problems sooner
Connecting with the right people at the right time to make the right decisions
Increasing collaboration from the outset of our projects
Understanding the needs of all our users and stakeholders
People tell us that empathy at work improves their working environments - making them more inclusive, promoting diverse thinking, and creating places where it's safe to challenge. They've seen improvements in change management skills and wellbeing.
Where did it all start?
Dr. Emma Jefferies, at HMRC designed a series of empathy experiments involving active listening, reflecting on cognitive bias, exploring the emotional week and fostering curiosity about others, the experiments turned into activities and the ME WE Workplace Empathy Programme™ was formed.
We found individuals and teams learned from each other's viewpoints, creating greater empathy in the way we work, strengthening team collaboration and resulting in better services for our users.
It's amazing to find that we aren't alone in wanting to increase empathy in the workplace and discovered lots of like-minded colleagues across government. There's a strong message - we're all keen to normalise empathy as part of our daily working lives.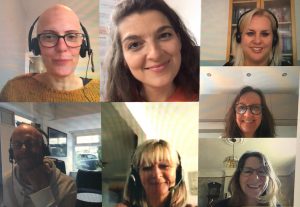 Which Departments are now involved? 
Last year Cabinet Office hosted a cross-government event, reaching out to our colleagues in DWP, BEIS, MoJ and Home Office, all of whom are now starting their journey and sharing the programme.
DWP Digital have implemented the programme across a number of teams "It was amazing to see the impact within the business management team - people feel connected, supported and part of an empathic and supportive team. It's helped the team tremendously with the challenges of COVID over the last few difficult months, and it's also having a positive effect on their family lives." Marie Franklin, Product Manager.
BEIS recently completed a 'Train the Trainer' with 30 people who are sharing the programme as part of their Diversity and Inclusion Strategy. The feedback we received stated that "The programme has prompted conversations around the importance of empathy in policy-making, and how we best consider the different needs and experiences of those impacted by our work, as well as helping to identify inclusive behaviours in teams." Emma, Strategic Partnerships & Diversity Networks Lead. 
Plans for a cross government Community
The real value comes from the engagement generated through storytelling and sharing. ME WE Workplace Empathy Programme™ is a great way to start helping to break down perceived or actual barriers, no matter where we work.
The appetite for the programme will help to deliver a constantly improving product right across government, building a real sense of team spirit.
We're aiming to establish an Empathy in Government Community by the end of the year.
If you'd like to find out more please contact gill.kennedy@hmrc.gov.uk or your departmental D&I team.
If you'd like more information on National Inclusion Week go to the inclusive employers website.